Henry Collins has owned and operated Mecca Unisex Salon for the past 27 years.

"We've been around a long time," said Collins, 48. "And when you're on the map for long enough, people in the community really start to understand the value in what you're doing."

Located near 15th Street, Mecca is one of several long standing small businesses along the Cecil B. Moore Avenue commercial corridor near Main Campus, which stretches roughly five blocks between Broad Street and 20th.

Collins, who grew up in North Philadelphia, said his clientele include Temple University students and residents of the surrounding North Central community. The salon also sees a roster of local celebrities and politicians, including Philadelphia rapper Lil Uzi Vert and City Council President Darrell Clarke, Collins added.

"We see all kinds of people come in here, including some real Philly legends like the boxer Bernard Hopkins who won a whole lotta fights in his day," said Collins.
It has not always been easy for small businesses along the commercial corridor. In 1964, riots destroyed large portions of what was then known as Columbia Avenue and in the decades that followed, poverty and underdevelopment would continue to stagnate the local economy, according to the Temple Libraries collection "Civil Rights in a Northern City: Philadelphia."

Despite these setbacks and the challenge of operating a business during the COVID-19 pandemic, longtime owners like Collins remain committed to serving their community. At the same time, newer business owners are choosing to put down roots along the avenue, including Trina Worrell-Benjamin, 23, who six years ago launched her business TWB Cleaning Contractors on Cecil B. Moore Avenue near 15th Street after growing up on 12th Street near Lehigh Avenue.

"Most of the time when you're starting your own business, you know, you don't have a lot of resources at your disposal or capital," said Worrell-Benjamin. "To make it work requires your own dedication and commitment."

A TURBULENT HISTORY
Cecil B. Moore Avenue's origins as a commercial corridor date as far back as the 1830s, when the neighborhood consisted mostly of newly immigrated Europeans, with an especially large Jewish population, many of whom started businesses along the avenue, according to Temple Libraries' collection.

Despite shifting demographics within the area, North Central's Jewish community would continue to own the majority of small businesses along the corridor throughout the 19th century and into the 1900s, said Keith Riley, a fifth-year history doctoral candidate.

The demographics of the neighborhood shifted in the 1940s and 1950s as North Central saw a large influx of African Americans as a result of the Great Migration, which was largely driven by a desire to escape the racial oppression under the South's Jim Crow laws, as well as the promise of greater economic opportunity in Northern cities, Riley said.

"The Great Migration is absolutely an inflection point in North Philadelphia's history, as well as other Northern cities across the country," Riley said. "The influx leads to major shifts in neighborhood dynamics as well as rising tensions surrounding topics of economics, race and religion."

Despite better economic conditions, African Americans in North Philadelphia still faced major hardship, and by the 1960s, average income in African American households was only $3,352 per year, about 30 percent lower than the city average, according to Temple Libraries' collection.

On Aug. 28, 1964, the Columbia Avenue riots began and resulted in hundreds of arrests and two deaths over the course of three days. In total, 726 buildings were affected by the unrest, totaling in more than $3 million in property damage, according to research by Alex Elkins, a 2017 history doctoral alumnus, who wrote his dissertation on the riots.

Riley credits mounting inequality and poor neighborhood-police relations as some of the main catalysts of the Columbia Avenue riots, which resulted in the near-total destruction of retail establishments along the avenue, with Jewish-owned businesses targeted disproportionately.

Through the 1960s and 1970s, most of the Jewish families living in North Central relocated to the Philadelphia suburbs, leaving many vacancies along the commercial corridor. In the following decades, the avenue saw marginal business growth, but due to high poverty and underdevelopment, many struggled to keep their doors open, Riley said.

Several federally-funded commercial and residential redevelopment projects aimed at revitalizing the corridor including a federally-funded plan launched in 1993, which invested $113.9 million into creating affordable housing units along the avenue, the New York Times reported.

Today, vacant lots and storefronts are still interspersed across Cecil B. Moore Avenue's business corridor, but efforts to grow and revitalize the local economy have continued through the work of community development financial institutions like Beech Interplex and Temple's Small Business Development Center, which have supported small business growth and further development of the corridor.

INTEGRAL TO COMMUNITY
Many small business owners have remained on Cecil B. Moore Avenue for several decades, playing an indispensable role in bolstering personal attachment and pride in the community among residents, sociology professor Geoffery Moss said.

D&J Hardware, also located on Cecil B. Moore Avenue near Sydenham Street, is one of the few hardware stores in North Central and provides services to both homeowners and contractors in the community, said owner Jason Kim.

"We are very grateful to have regulars from the area who come back time and time again," Kim said. "It's really great to have customers you have good relationships with, it makes the work much more rewarding."

Kim, 51, inherited the businesses from his uncle six years ago, who operated it for more than 26 years. The store closed for seven weeks after the COVID-19 pandemic forced small businesses across the U.S. to close in March. During that time, Kim made several reconfigurations to his store in an effort to make customers feel safe, limiting access to the store's tight aisles which are flanked by shelves stacked high with inventory.

"A lot of our business comes from landlords and handymen in the neighborhood. [COVID-19] or not, they still had things that needed to be fixed," Kim said "We wanted to reopen as soon as possible, while still being safe, in order to continue providing reliable services to our customers."

Back at Mecca, the rarely worn-down leather barber chairs tell the story of the countless customers who have patronized the business over the decades. Mecca typically has multiple barbers, including Collins, working at the same time when the store gets busy. More than a dozen televisions line the walls of the salon where programming ranges from sports to politics, prompting lively conversations and debates among patrons, Collins said.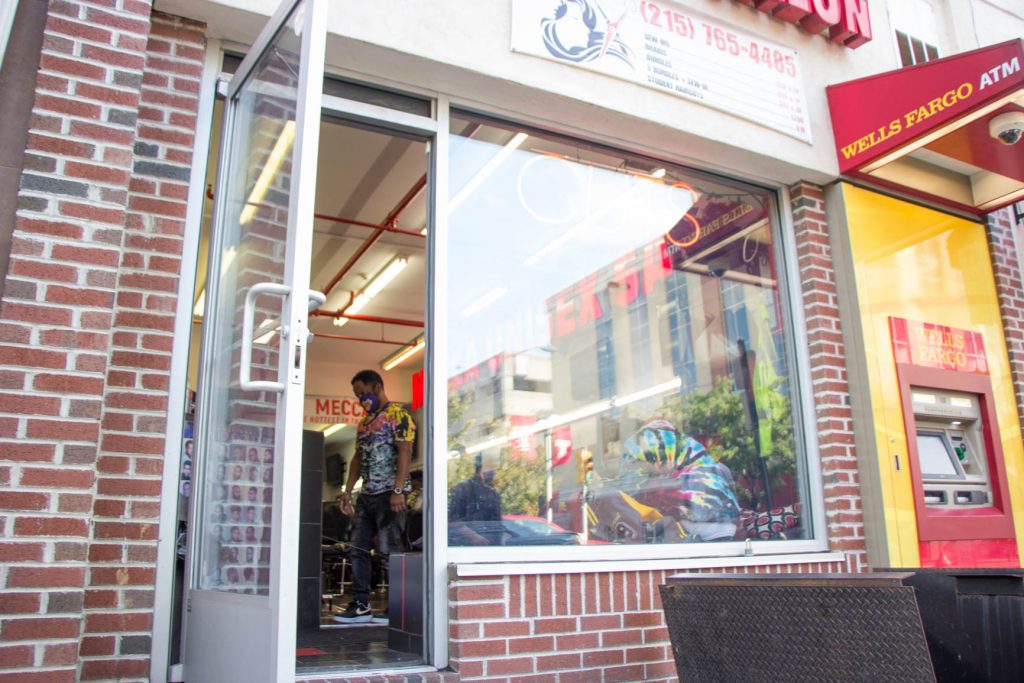 Small businesses like Mecca serve a critical role in promoting much needed dialogue between community members in spaces that are neither home nor work, where discussions can range from issues of politics and race to improving neighborhood relations, Moss said.

"This isn't just a place to get a haircut," Collins said. "This is a space where people can connect and talk in ways they otherwise wouldn't be able to."

LOOKING FORWARD
While some large business chains occupy retail space on the corridor, many businesses on Cecil B. Moore remain independently owned, which often afford a more diverse range of products better suited to the individual needs of the neighborhood, said Moss.

Young entrepreneurs like Elliott Broaster, 23, founder of Smokes n' Things on Cecil B. Moore Avenue near Bouvier Street, represent the new guard of small businesses on the Cecil B. Moore commercial corridor and are eager to provide a high-demand service to the neighborhood.

Broaster, a 2019 entrepreneurship and innovation management major alumnus who grew up in North Central, had the idea to open Smokes n' Things while still attending classes at Temple.

In 2018, he opened the business during his junior year, to sell a range of tobacco products and other smoking accessories.
As an undergraduate student, Broaster knew he wanted to start a business near Temple so when he saw an available storefront on Cecil B. Moore Avenue, he went for it. In addition to Smokes n' Things, Broaster owns another business and has plans to open even more in the near future.

A driving part of Broaster's business philosophy involves giving back to the community, he said.

He is always willing to counsel other young entrepreneurs looking to get their businesses off the ground and regularly posts informational videos for aspiring business owners on his Instagram, he said.

"Our doors are always open," Broaster said. "I want to use the lessons I've learned to teach and inspire other entrepreneurs about what it takes to run your own business. Honestly, all the knowledge I have now means nothing unless I'm passing it on to someone else."

Broaster's business was vandalized this summer during protests after the police killing of George Floyd, resulting in broken storefront windows and loss of inventory. In response, a friend of his launched a GoFundMe page in early June which raised more than $27,000, exceeding the fundraiser's goal of $10,000. The shop has since been repaired and reopened.

"When you put out good energy, you typically get it back," Broaster added. "I want to help as many people as I can start their own business because I believe ownership is the best way out of poverty."

Broaster isn't the only small business owner on the avenue to face adversity in recent months. When the COVID-19 pandemic hit in March, the offices, retail stores and construction sites TWB Cleaning Contractors serviced were shut down, and Worrell-Benjamin saw her revenue begin to shrink drastically.

"It's been hard," Worrell-Benjamin said. "Not only financially, but we were forced to make some tough decisions. We employ people from all three of the surrounding ZIP codes and see each other like family, so I was very concerned not only for myself but also my employees."

In recent weeks, Worrell-Benjamin has seen a slow but steady increase in business as retail spaces and construction sites reopen. She's also seen a rise in morale among her employees, some of whom had family that contracted COVID-19 and were hospitalized, but have since recovered, she added.
Despite these challenges, owners like Worrell-Benjamin remain resolute in their commitment to continue providing their services to the neighborhood.

"It has always been my goal to launch a business in the community that would serve the community," Worrell-Benjamin said.

Small businesses have meaningful impacts on urban areas on small and large scales, both of which lead to the overall stronger community, Moss said.

"Through enabling things as small as interpersonal relationships, to their larger role as employers and providers of goods and services, the importance of small businesses cannot be overstated in local communities," he added.