Before D'Wan Mathis was a four-star recruit and the ninth-ranked quarterback in the 2019 high school class, he was just a kid from Oak Park, Michigan who started playing football to pass the time.
"I just needed something to do when my mom was at work," Mathis said, "Other than that, I would be at home with my grandma or somebody so I just got into sports early. When I first started playing I was a right guard and then towards the end of the season I got a pitch and I took it to the endzone and ever since then I was in a skill position."
Mathis decommitted three times before committing to the University of Georgia during his senior year of high school and transferred to Temple after just two years at Georgia. After working his way up the Bulldogs' quarterback depth chart during his freshman season, everything came crashing down.
A brain cyst discovered by the Georgia medical staff put Mathis through a journey he never would have expected:
THE START
Mathis alternated between quarterback, tight end and running back on his youth teams in Michigan but quickly found a home in the quarterback room once he got to middle school. Mathis was still putting most of his focus on playing basketball despite his success on the field.
Once Mathis got to high school, he realized football gave him the best opportunity to continue competing at the collegiate level.
"I really had to pick one or the other if I really wanted to take one of them professionally," Mathis said. "I ended up choosing football and ever since then it's just like, wow. I'm happy that I have this ability and it's a blessing to be able to do what I do."
During his senior year of high school, Mathis held 11 offers from top-notch programs like Georgia, Ohio State, Iowa State, Michigan State and Oregon. After originally committing to Iowa State early on in high school, Mathis changed his mind and committed to Michigan State. He changed his mind once again after taking an official visit to Ohio State during his senior year.
Mathis decommitted for a third time after the ESPN app alerted him to five-star recruit and current Chicago Bears quarterback Justin Fields transferring to Ohio State. Mathis quickly called Georgia head coach Kirby Smart and told him he was going to be a Bulldog.
"On signing day I was on the phone with [Ohio State head coach Ryan Day] and Kirby Smart," Mathis said. "They're calling me back and forth trying to get me to sign, and I don't know where to go, and then the ESPN alert pops up on my phone so that was the deciding factor of me going to Georgia. I decommitted and I ended up at Georgia."
DISCOVERY
After arriving at Georgia, Mathis began preparing for a backup role as a freshman after battling Jake Fromm and Stetson Bennett in the quarterback room. Halfway through the season, Mathis began experiencing severe headaches.
At first, Georgia's campus health center gave him Benadryl, which initially cured the headaches, but they returned after a couple of days. Mathis experienced excruciating pain and couldn't stop sleeping.
"I was telling my roommates, 'Man, I think I'm about to die,'" Mathis said. "They take me to [Piedmont Athens Regional Hospital] and I go in there and do a CT scan and they don't find anything so they make me do an MRI and they find that I have a brain cyst."
During an emergency surgery to remove the cyst just hours after discovering it, Mathis woke up on the operating table right before the surgeons made their first incision.
"I woke up on the surgery table and then the only thing I can remember is me telling them, 'Please don't kill me,'" Mathis said. "I saw all these knives and saws and everything and then the rest was history. I woke up, had a swollen head and from there on it was like, 'We're just happy to be here.'"
RECOVERY
Mathis never considered that the brain cyst could jeopardize his playing career. Doctors originally told him the recovery process would likely take six months. However, after he failed to reach certain rehabilitation benchmarks, Mathis began to worry if he would ever get back on the field.
Mathis was cleared to resume practicing with his teammates at Georgia six months after the surgery, but he was nowhere near being cleared to play in a game. After hundreds of brain images and physical tests, Mathis thought he might have played his last snap of football.
"I was always supposed to come back but it kept getting prolonged and it kept getting pushed back and it became in my head like, 'Damn, maybe I'll never get to do this again,'" Mathis said. "That would have taken my joy away from me, what I like to do to escape from problems and stuff that I'm going through."
After a year of rehab and physical tests, Mathis was finally cleared for full contact. He impressed during offseason camp and secured the starting job over Bennett, who now plays for the Los Angeles Rams.
DECISION
In the Bulldogs' season opener against Arkansas, Mathis struggled to get going early on. He threw for just 55 yards on 17 attempts, completing eight and throwing one interception. Georgia went into the second quarter trailing 7-0 and Smart and then-Georgia offensive coordinator Todd Monken pulled Mathis out of the game. Bennett came in and led the team to 32-point second half, earning a 37-10 win.
Bennett went on to be the team's starter for most of the season, with J.T. Daniels also earning time at the position. Mathis had suddenly fallen to third on the depth chart and had to consider his next course of action.
Despite not wanting to leave Athens, Mathis knew his opportunity to be the starting quarterback for the Bulldogs had passed. He entered the transfer portal after Georgia's Peach Bowl win against Cincinnati on Jan. 1, 2021.
"I was like, 'What do I do from here?'" Mathis said. "Is this really still what I wanna do? You go through self doubt, you go through depression, a lot of things that you never thought could happen to you because at the time you're on top of the world, I was the starting quarterback at the University of Georgia, this is a great opportunity. Then just like that, at the blink of an eye, it's all taken away from you."
When he was in the portal, Mathis strongly considered Utah and Louisville, two programs that were bowl game regulars and coming off strong seasons. But after talking to former head coach Rod Carey, Mathis was assured he had the opportunity to start for the Owls.
ADVERSITY
Mathis entered the 2021 season as one of Temple's highest-rated transfers in program history. He secured the starting quarterback position and led Temple to a strong 3-2 start to the season, including a 34-31 comeback victory against Memphis where Mathis threw for 322 yards and three touchdowns.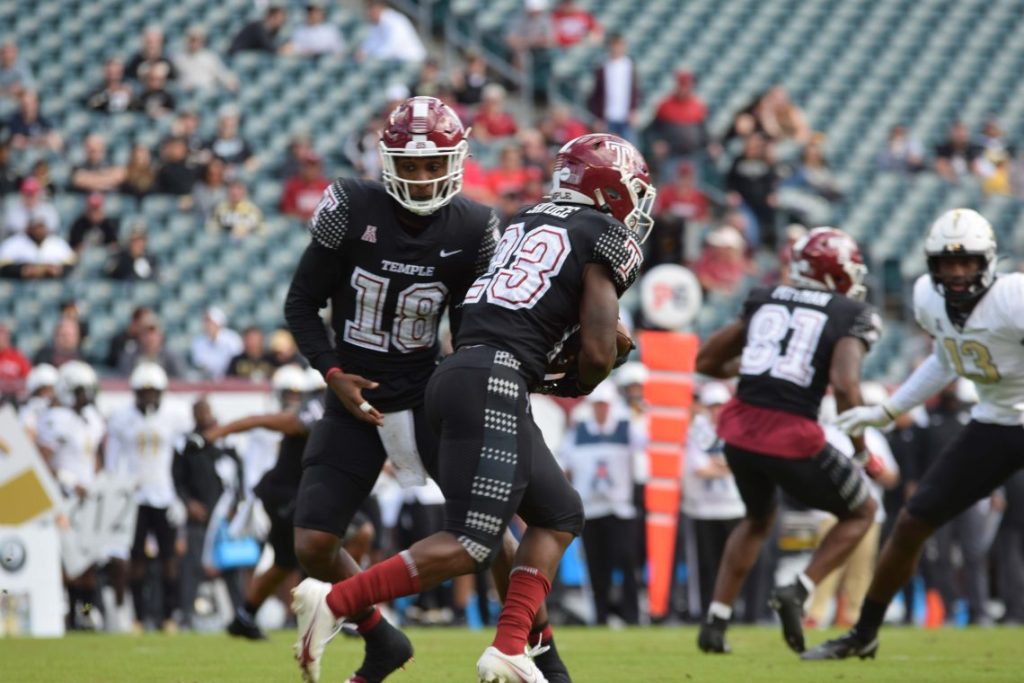 Just when things seemed to finally be trending in the right direction, Temple dropped four games in a row and Mathis failed to throw for more than 200 yards in a game for the remainder of the season. He also missed the final three games of the year due to multiple injuries, giving former quarterback Justin Lynch the starting spot for the remainder of the season. After starting 3-2, Temple lost seven consecutive games to finish 3-9 on the year.
After the season, Mathis entered the transfer portal with the intention to move on from Temple, but quickly realized he was receiving minimal national interest. Temple fired Carey on Nov. 21, 2021, and Mathis returned to Temple. When the Owls hired Stan Drayton, he assured Mathis he would have the opportunity to compete for the starting role.
During summer workouts, the starting job was between Mathis and Quincy Patterson, another former four-star recruit who transferred down multiple times because of underwhelming play. Mathis secured the starting job but struggled to get things going once again.
In the season opener against Duke, Mathis threw for just 83 yards and the Owls failed to score a single point in the 30-0 loss. In the second half of the game, Mathis suffered a shoulder injury that lingered into the following week against Lafayette.
Mathis fumbled twice and completed just three passes against the Leopards, an FCS team, causing Drayton to pull him out of the game; but it was true freshman E.J. Warner, not Patterson, who replaced him. Warner went on to remain the starter for the rest of the season and was named a first-team freshman All-American.
"I was happy for him that he was playing well because obviously I couldn't get the job done," Mathis said. "But I'm just going through the work trying to figure out what's next for me. The next day came and I discussed with coach Drayton what the plan would be moving forward."
POSITION CHANGE
Mathis didn't play the following week in Temple's homecoming matchup against Rutgers.
Just two weeks later, he was officially listed as a wide receiver against Umass. He caught just one pass in that game. The following week against Memphis, Mathis dropped a jump fade in the corner of the endzone that would have been a touchdown.
"Moving from quarterback to receiver, that could have been a challenging deal for him," Drayton said. "I thought he embraced the transition with flying colors, which gives us a lot of indication of how tough the kid is. He's embraced it, he loves playing wide out right now. He knows he has a lot of work ahead of him and he'll grow with the season as well. He's a guy that we gotta count on and he will prove that to be the case."
Mathis finished the 2022 season with six receptions and 44 yards. But after a full offseason of camp in the wide receiver room, he finally feels comfortable for the first time in a while.
As he enters his final year of NCAA eligibility, Mathis knows he has a lot to learn. But his ultimate goal of continuing his football career after college remains the same, even if the path is a little different than anticipated.
"D'Wan is a great kid who comes from a fantastic family," wrote Monken, who is now the offensive coordinator for the Baltimore Ravens, in a statement to The Temple News. "He's a tremendous athlete and passionate competitor, someone whom I've always known to be a hard worker. I'm very happy that things are working out for him at Temple, and I look forward to seeing where this next step in his journey leads him."