For Ying Zhang, the most challenging part of being an international student is shopping at the grocery store.
For Danna Wang, it's making American friends. For Kathryn Edgar, it's meeting domestic students outside her athletic team. For Arthur Heuzard, it's understanding American small talk.
Pennsylvania is among the top 10 states in the country with the most international students enrolled, according to the Migration Policy Institute. At Temple, there are more than 3,000 international students, and they face a variety of challenges that are often unfamiliar to domestic students.
Our staff at The Temple News set out to better understand the international student experience at Temple and what resources the university provides.
In this longform story, you'll meet a handful of international students from more than 10 different countries, all of whom detail some of their struggles in America and the ways they learn to cope. You'll hear from administrators on the efforts they make to help international students adjust.
Additionally, in sidebars attached to this story, you'll read personal essays from writers at Freely Magazine, an international student publication on Main Campus.
To the international students who shared their stories with us, we say thank you. As a staff made up entirely of domestic students, the stories you shared with us were enlightening and valuable.
Your openness was essential to our accurate reporting of this project, and we learned so much from you. We know the Temple community will learn something too.
HOW DO INTERNATIONAL STUDENTS GET TO TEMPLE?
At Temple, enrolling international students often starts with Jessica Sandberg, the director of international admissions in the Office of International Affairs. Alongside Nathan Jones, the director of international recruitment, Sandberg traveled to about 30 countries in the last year for recruitment.
When she recruits students to Temple, Sandberg said she tries to outline the university's global opportunities: Main Campus is situated in a major American city, and the university has additional campuses in Japan and Rome.
Most international students at Temple come from China, with 42.6 percent of international students hailing from the country. Following China are India, South Korea, Kuwait and Vietnam.
Why do so many Chinese students come to Temple? Sandberg cites the country's economy. When China became a major economic power in the 1970s, more parents could afford to send their children abroad for education, according to the Yale Economic Review.
"We, as in the United States, have enjoyed this onslaught of students that are coming because we are the dream in terms of higher education," Sandberg said.
Sandberg and her staff also recruit international students who came to the United States for high school — she said 35 percent of Temple's 2,058 international students who are undergraduates studied here.
In Fall 2017, Sandberg and her colleagues visited about 40 high schools within driving distance of Main Campus to recruit international students.
"Sometimes I'll talk to colleagues from other universities across the U.S. and they'll say, 'What's the trick? How did you get so many students from the U.S. high schools?'" Sandberg said. "I just say, 'Well, look at the map. It's our backyard.'"
Ruben Ciowela, a senior economics major, is among those international students who were enrolled in a U.S. high school before arriving at Temple. Ciowela, who is from the Democratic Republic of the Congo, moved to New Jersey in 2012 because of his father's job at the United Nations.
Spending his last two years of high school in the U.S. helped him acclimate to life at Temple, Ciowela said.
"It really helped me with my English," he said. "It helped me get familiar with the culture and what to expect from college."
Immigration
Joan McGinley, the interim director of immigration services for International Student and Scholar Services, said being an international adviser in today's political climate is difficult.
In particular, McGinley said her office didn't support President Donald Trump's travel ban of people from seven countries in January 2017.
The countries affected by Trump's latest iteration of the travel ban — which was approved by the Supreme Court in December 2017 — include:
Iran
Libya
Syria
Yemen
Somalia
Chad
North Korea
"We didn't like it, to put it the politically correct way," she said. "It was awful."
McGinley and her staff assist members of the Temple community with their visa sponsorships so they can pursue education, research or employment. Once a student has been admitted, ISSS helps them obtain the necessary documentation.
Most international students at the university are on a nonimmigrant visa, which is for non-U.S. citizens who are interested in coming here temporarily for things like tourism, education or medical treatment. There are dozens of different types of visas, but McGinley said the most common student visas are an F-1 or J-1.
Most of the students at Temple with visas study in the Fox School of Business, according to ISSS data.
McGinley, who has worked at Temple since the 1980s, said the student visa application process has gotten easier over the years.
"For maybe the last 10 years, 15 years, we haven't had many visa denials at all really, which was great," McGinley said.
Immigration reform under the Bill Clinton and George W. Bush administrations made American universities more accessible to international students. The 2000 American Competitiveness in the 21st Century Act and the H-1B Visa Reform Act of 2004 removed numerical caps on the H-1B visa and added 20,000 H-1B visas for those graduating from U.S. institutions with a master's degree.
But McGinley worries that, under the current administration, navigating the visa and immigration process can be "more dicey" for international students. Her job often includes dispelling myths and calming fears of deportation due to Trump's immigration views.
Shortly after Trump's first travel ban was announced, McGinley began to worry about the students who had been admitted to Temple from the banned countries.
In particular, she thought of one woman from Iran who was already on her way to Temple. Fortunately, McGinley said, ISSS staff members and two immigration lawyers helped the woman get to the U.S. safely.
"They are still getting here, and when they're here, they're just Temple students," she said. "I like to think they recognize the fact that the ban is one person's opinion."
ONCE THEY'RE HERE, WHAT PROBLEMS DO THEY FACE?
Housing
University Village
Diamond Green
The View
Sydenham Commons
The Edge
Christyna Stires, general manager
How many international students live in your building?
124 students
How do you facilitate relationships with international students?
They often find University Village through word-of-mouth from either fellow international students or university staff in UHRL's Office of Off-Campus Living, Stires said. University Village is also recommended on a list of local, off-campus apartment complexes on the University Housing and Residential Life website.
Do you offer specific policies to benefit international students?
University Village has an international resident coordinator who lives in the facility and helps build community for international students through outreach and events. Although not specifically designed for international students, leases at University Village can be signed online, which helps students who may not be able to come to the office.
Randi Fair, property manager, and Brenda Santos, assistant property manager
How many international students live in your building?
30 students
How do you facilitate relationships with international students?
International students living in Diamond Green are often referred there by other former international residents, Fair said.
Do you offer specific policies to benefit international students?
There are several policies that Diamond Green developed specifically in response to international student tenants. The apartment complex does not require a cosigner for international students and accepts Western Union money transfers as payment, which can help students who don't have a U.S. bank account.
Diamond Green also has an international resident coordinator.
Ray Ruani, international resident coordinator
How many international students live in your building?
About 70 to 80 students
How do you facilitate relationships with international students?
Like other apartment complexes, many international students who live at The View were referred by past tenants who they know personally, Ruani said.
Do you offer specific policies to benefit international students?
The View also has an on-site international resident coordinator.
Kathy Ran, property manager & Lili Mo, assistant property manager
How many international students live in your building?
Sydenham Commons allows a maximum of eight international students, split between four boys and four girls, as tenants, Ran said.
How do you facilitate relationships with international students?
Ran said most of the international student tenants hear about Sydenham Commons through word-of-mouth referrals.
Do you offer specific policies to benefit international students?
To accommodate international students, Sydenham Commons offers them semesterly leases — but the entirety of their rent is required up front.
Shardé Johnson, assistant director of residence life, and Helen Watson, director of leasing
How many international students live in your building?
Johnson said at least 77 international students live at The Edge.
How do you facilitate relationships with international students?
International students are referred to The Edge from the university's website, which recommends specific off-campus housing options.
Do you offer specific policies to benefit international students?
The Edge offers semester- and year-long leases, Watson said. It also has international resident coordinators, Johnson said.
When Tong Tong Zhu committed to Temple for four years, she had only seen the city and university she would call home through pictures on her computer.
"I have no idea how the life will be lived in the dorm or what the location looks like," said Zhu, a sophomore accounting major from China. "All I can do is just search online and sometimes use resources. It's kind of like having no idea. I just have to choose one."
Zhu attempted to live on campus during her freshman year, but had to single-handedly find off-campus housing because there were no available on-campus spaces. She eventually signed a one-year lease with The Edge, an apartment complex leased by the university on 15th Street near Cecil B. Moore Avenue.
But complications continued when she moved into The Edge and discovered her room had bed bugs. After reporting it, she said the staff did not respond. Only after going to the Office of International Student Affairs to report her problem did the housing complex allow her to move to a different space in The Edge — at the additional cost of $200 per month.
"I felt so helpless," she said. "I had no choice to leave [my lease]."
A spokesperson from The Edge told The Temple News that the housing complex has no reported issues for which it did not contact a vendor to address the problem.
"The Edge takes all reported issues seriously and we move quickly to ensure they are addressed in a very timely manner," said Ajiri Ekpebe, general manager at The Edge.
For international students who do get on-campus housing, University Housing and Residential Life works closely with ISSS to support them, said Shana Alston, the interim director of housing operations for UHRL.
"It's really important for us that we create inclusive and supportive environments for all students," Alston said. "So much of what we do for students is on an individual basis."
Many international students choose where they'll live at Temple through UHRL's website. But Alston said international students sometimes encounter barriers, like a lack of translation to their native language or having the website blocked in certain countries.
Alston said in these cases, she emails international students directly to help connect them to the right resources for their housing needs before coming to Temple.
There is a Global Living Learning Community that is open to international and domestic students living on campus, but one of the biggest challenges international students can face when choosing on-campus housing is the limited time they can spend in residence halls, Alston said.
Even though students can stay in dorms during Thanksgiving, winter and spring breaks, they can't stay after the spring semester unless they are enrolled in summer classes, she said. UHRL helps international students who want to stay in one place for a year or longer find other options.
"We want our international students to live on campus, and we want to make it accessible and easy for them," Alston said.
Other international students, like Yichen Yang, struggle to adjust to the cultural differences that arise when living with domestic students.
When Yang attended college in Taiwan, she shared a room with five other Chinese students. Despite her crowded room, Yang preferred this situation compared to her first year at Temple, when she shared a room with one American student in Morgan Hall.
"[In Taiwan], we had the same habits, living habits," said Yang, a senior communication studies major. "I just found there's a difference in [the U.S.]. Chinese people are slow. It's like, you guys are very quick into it. Maybe it just took more time for Chinese to get to know each other."
Yang said the cultural differences — plus her weak English — impacted her relationship with her first-year roommate. She spent most of that year hanging out in other international students' rooms.
During Arthur Heuzard's freshman year, he was the only international student living on his floor in Johnson Hall. He struggled to acclimate to American small talk, specifically the phrase "How are you doing?"
"I thought people didn't like me, because they would just say it and walk away," said Heuzard, a senior sports and recreation management major from France. "In France, when you say something like that, you have a conversation."
But Heuzard said overall his floor was welcoming, and living with domestic students helped him integrate into American culture. Ray Ruani, a junior international business major from Brazil, agreed: her domestic roommate in 1300 Residence Hall introduced her to new things, like indie rock music, during her freshman year.
"It's a lot harder to make friends with American people," Ruani said. "It lacks that initial point of conversation. I would say if you have the option to live with an international student and an American student, go for the American student, because you're going to make those international friends regardless."
Now, Ruani, Yang and Zhu all live with international students. Ruani moved into The View with another Brazilian student, and Zhu also lives in The View with three international students.
Yang happened to be placed with a Chinese student when she moved into Sydenham Commons on Sydenham Street near Cecil B. Moore Avenue in Fall 2017.
Ultimately, living with another international student makes Yang's apartment — in a city more than 7,000 miles away from her native country — feel more like home.
"I feel comfortable in my own room," Yang said. "We are like roommates, but also friends. Our relationship is much more easier."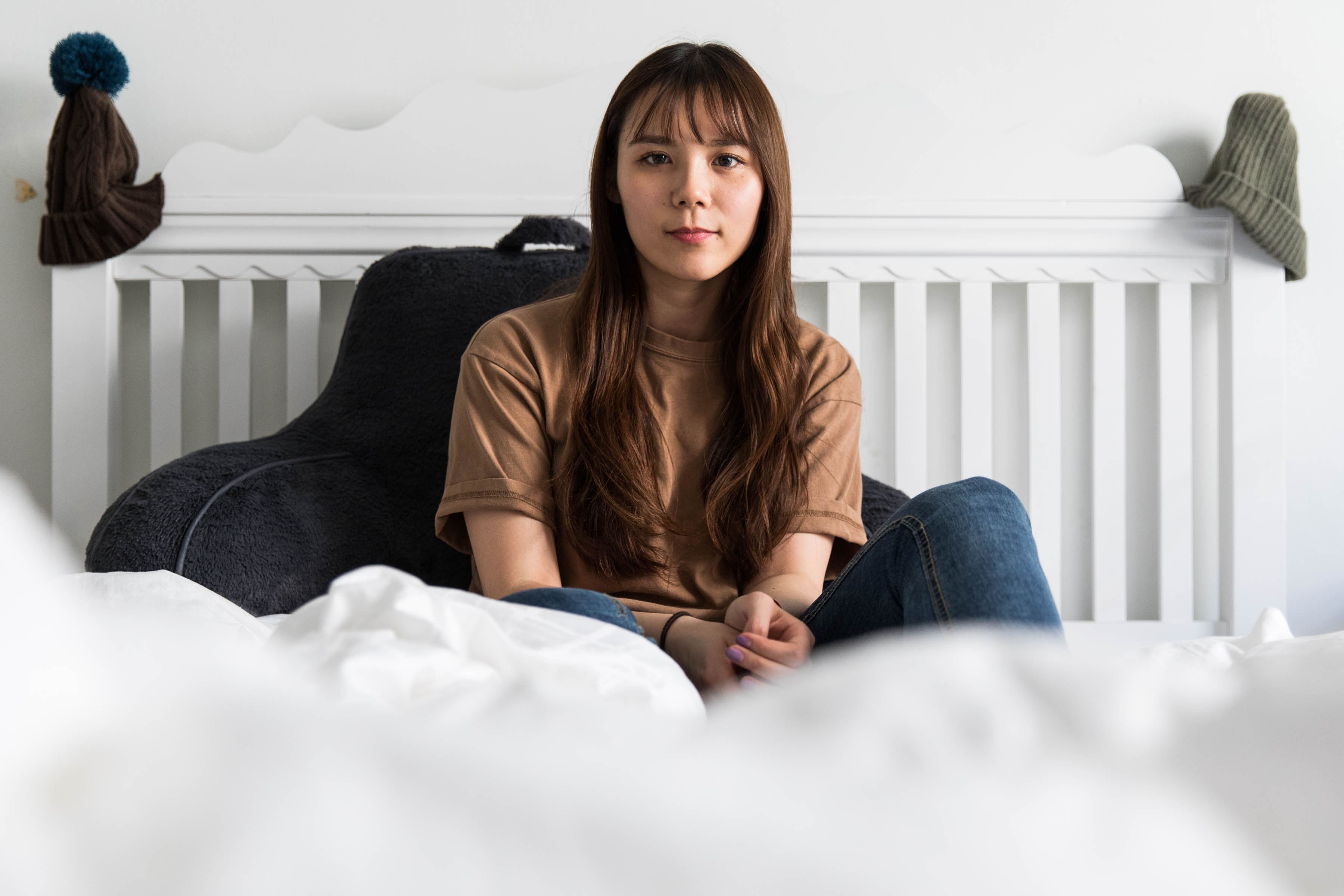 Daily Challenges
The biggest daily challenge Ying Zhang, a Ph.D. law student from Beijing, faces is the language barrier.
It's more pervasive for her than any other obstacle associated with being an international student. It complicates making friends, doing homework and even going to the grocery store.
"Suppose you want to cook something," she said. "You always don't know what anything is. … You can't always find the right thing that you're looking for."
Zhang is an exchange student at the Beasley School of Law, which has a partnership with the school she attends back home: the University of International Business and Economics in Beijing. She plans to study at Temple for a year before returning home.
For her law classes, Zhang is often assigned research papers that are about six to eight pages long, double-spaced. That can take her two full days, even if she's familiar with the material, she said.
"That is a huge challenge for me," Zhang said. "Law is all about language, and we have different law systems. It's really hard, and it takes me lots of time."
She can get by when she's speaking to someone in person — context clues like body language and facial expressions help fill in the gaps when she's not sure exactly what someone means. Zhang encounters more problems speaking with people on the phone.
Despite her effort, the language barrier makes being an international student especially lonely, Zhang said. In her classes, American students seem unwelcoming and reluctant to speak with her.
"It's crowded here at the university," Zhang said. "Most of the people, they won't talk to you. They concentrate on their own stuff."
For older international students, an age gap can further exacerbate this sense of isolation.
Arash Hosseini, 28, a second-year civil engineering Ph.D. student, is from Tehran, Iran. He spent a year studying in Colorado before transferring to Temple because he missed the diversity of a "big city" like Tehran.
Once he got here, Hosseini said he sought out social events, like the Office of International Affairs' #YouAreWelcomeHere event series in March, to meet new people and make friends. But the events target teenagers in their first year of college, and many of his fellow graduate students are reluctant to attend them, Hosseini said.
"Some of them are hesitating to participate," Hosseini said. "So if we can have [events] similar to this but for graduate students, I think that would be a good idea."
"Especially for international students, you need to find more friends to feel like home," he added.
When international students try to make domestic friends, cultural barriers can inhibit the process.
Robert Tucker, a junior history major, came to Main Campus from the United Kingdom. At every party he attends, he said any hope of a normal conversation is lost as soon as he speaks.
"I'm having the same conversation, 'Ah, you're from England, what swear words do you have? What slang do you have?'" Tucker said. "I understand it's not these people's fault. It's kind of a novelty. It's different. But it's repetitive for me."
"I like music, I like films," he added. "We can talk about normal stuff. We don't have to talk about the queen."
Tucker said he thinks the intense curiosity about foreign cultures is rooted in the global dominance of the U.S. While Americans often know little about other countries, most international students have been exposed to American culture for their entire lives, he said.
"We have American music, we have American shows," Tucker said. "Everyone in the world knows who Donald Trump is. How many people in the world know who the Korean president is?"
For Chinese international student Danna Wang, the five years she's spent at Temple — first as an undergraduate and now as a doctoral student — have helped her establish strong friendships with domestic students. But the prevailing attitude among Americans is still to keep a narrow circle of friends, she said.
"Many American students, they only care about their own lives," said Wang, a first-year business analytics Ph.D. student. "It will be hard for international students to make friends with them [unless] the effort is from both sides."
International resident coordinators and building managers
Oftentimes, people who work at off-campus residences are first to meet international students when they arrive in the U.S., said Kathy Ran, the property manager at Sydenham Commons.
In the past, Ran said Sydenham Commons staff members have picked up international students at the airport if they can't find their own transportation. She and Lili Mo, her assistant property manager, also answer basic questions, like where to buy bedsheets.
"Every person comes in with a different background, because some of them have spoken to their friends so they have an idea of where everything is," said Ran, who uses her fluency in Chinese to communicate with international students. "It's just the small things, the everyday things, where they're not really sure where to buy shampoo."
At other off-campus residences, there are international resident coordinators designated to help students transition to Temple. Ruani, who is an IRC in The View, said four other complexes have IRCs: Diamond Green, The Edge, University Village and Apartments at 1220 North Broad.
IRCs respond to international students' concerns, which can range from academics to roommate conflicts and other day-to-day struggles, Ruani added.
Xiaoye Xu is an IRC at Diamond Green, an apartment complex on Diamond and 10th streets. Though he is from China and can use his Mandarin to better communicate with some international students, he said the biggest challenge they face is understanding American social norms.
"When I talk with [students] and…they realize that's how American culture goes, then I feel like…I'm actually helping them adopt American culture," Xu said.
To help build a community, IRCs coordinate events at each of their complexes. Ruani said the IRCs hosted events on Valentine's Day and Halloween at The View this academic year.
It can be challenging to maintain close contact with the 70 to 80 international students living in The View, Ruani said, but she tries to make herself approachable and warm.
"It's kind of like a friendship almost," Ruani said. "I feel like the kids I'm closer to, they're more comfortable asking me stuff. … I just try to get to know them and help them however they need it."
International Student Advising
When international students arrive for orientation on Main Campus, the two sole international student advisers at Temple, Joanne Garfield and Leanna Arnold, try to make them feel comfortable.
Last week, Temple hosted its first orientation in China. Garfield, Arnold and Assistant Director of International Student Affairs Leah Hetzell were awarded a grant by the Office of International Affairs to have "pre-departure orientations" in Beijing and Shanghai.
Garfield said she hopes the trip will give incoming international students a head start.
"We want to be able to start the conversation with them way earlier than that so when they arrive, they already know our faces," Arnold said. "They already talked to us. They've already seen a little bit of what Temple has to offer."
Arnold and Garfield also offer two webinars for international students during the summer.
Arnold said an ISSS representative will join the webinars to inform incoming students about the official documentation they'll need in the U.S., like visas.
"We can answer their questions along the way instead of having all of that added stress of the unknown when they arrive," Arnold said. "Hopefully, we'll make them feel more comfortable and ease their transition."
After international students arrive on Main Campus, academic advisers from the students' colleges will refer them to Garfield and Arnold if they need more support.
Garfield said it's hard to quantify how many students get referred to their advising office. But the busiest times are usually during the add, drop and withdrawal periods in the beginning of each semester, she added.
Garfield and Arnold often encourage international students to use on-campus academic resources, like the university's Writing Center.
When international students visit Arnold, she said she'll sometimes introduce them to Elisabeth Ursell, the assistant director of language services for the Writing Center, to make their adjustment easier.
"We've made a big push to have very strong communication with Leah and [Ursell]," Garfield said. "Instead of just telling someone where to go, you can actually connect them with the person."
Intensive English Language Program
For some international students, there's a caveat to their acceptance to Temple: They must complete the Intensive English Language Program's Temple Transitions Program.
IELP, which was adopted by Temple in the 1970s, helps non-native English speakers learn the language at hundreds of U.S. universities, said IELP Director Jackie McCafferty.
At IELP, there are several different options, including short-term programs, transitional programs and international graduate student programs.
For students who aren't proficient enough in English, the university offers transitional programs like Temple Path and Access Temple. Both of these programs require students to spend time in the IELP before taking undergraduate courses. If students participate in Access Temple, they are exempt from the TOEFL or IELTS, which are exams that test English language skills.
Once students graduate from the Temple Path program, they move on to Access Temple. On average, about 30 to 50 students enroll in Temple Path per seven-week term, and 70 to 80 students enroll in Access Temple per semester.
The university also offers courses every eight weeks that focus on writing, reading, speaking and listening, and those have long been the most popular. But McCafferty said recently, the program has seen a shift toward short-term programs.
On average, McCafferty said 100 to 200 students enroll in each seven-week IELP class.
One of the most popular classes is "Chatting with Americans," in which students engage with native English speakers on Main Campus. Other classes focus specifically on pronunciation or spelling for students who are from countries that use different alphabets, like Arabic and Asian countries.
McCafferty added that the student demographic varies in each program. In the IELP, students tend to hail from Kuwait, Saudi Arabia or China. For Access Temple and Temple Path, it's mostly Chinese students, and for the short-term programs, the department sees a lot of Korean and Taiwanese students.
McCafferty recognizes that IELP students often feel isolated from the rest of the university. In response, the program added a student services coordinator who organizes activities, like on-campus events and field trips. The program also encourages participation in student organizations.
"We're trying to keep them closer to home and feeling more engaged with being here instead of putting them on buses and going places," McCafferty said.
Office of International Affairs
The Office of International Affairs, headed by Vice President of International Affairs Hai-Lung Dai, is composed of two divisions: one for outbound students leaving the U.S. to study abroad, and another for inbound students.
Martyn Miller, the assistant vice president for international programs, oversees the International Program's five units:
Global Programs
Intensive English Language Program
International Marketing and Recruiting
International Student and Scholar Services
International Student Affairs
Miller and his office is a resource for international students with various concerns, he said.
"You all know the 'Temple shuffle,'" he said. "You know that students are shuffled from one office to one office to one office. We try not to make that happen for the international students. So if a student comes to my office, she will never walk out with, 'I don't know,' as the answer or, 'Go see somebody else.'"
Dai also acknowledged that Temple's bureaucracy can create burdens for international students. He said he hopes to centralize international student resources by building an International Center in the next five years, which would house all the resources international students might need.
"One of the biggest issues is trying to get the rest of the university community to understand the importance of international education, both coming and going," Miller added. "It's a lack of knowledge of the international student. Once you introduce them, that ignorance goes away."
International Student Affairs
Two red knots hang on the wall of Christine Brady's office, where she works as Office of Alumni Relations' director of school and college programs. The decorations were given to her by two international students from China.
Brady coordinates a program called TemPALS alongside Hetzell, the assistant director of International Student Affairs. The 10-year-old program pairs alumni with international students to show them around Main Campus and the city.
"We try to…give them that kind of authentic experience," Hetzell said. "Our students really think that it's one of the best programs that we offer, just to really be in someone's home."
"You don't have to take them on expensive outings," Brady added. "Students often want to sit in an American living room."
TemPALS is one of several ways Hetzell and her team provide international students with support. They begin to assist incoming students as early as April, and they work with ISSS to get international students their visas. After that, International Student Affairs helps the students register for orientation.
Once they're on campus, Hetzell said international students may be referred to several different on-campus resources for support.
"An issue might come up through maybe an academic adviser," Hetzell said. "And then they say, 'Oh wow, that's beyond me, you might need to go to maybe Tuttleman Counseling or get some other sort of referral.' … We're going to send them to the correct resource."
She added that it's important to provide support, because international students are far from their families when issues come up.
To address high-level concerns, like visa issues and arrests, Hetzell said she teams up with Miller and McGinley, the director of immigration services.
The department also offers the peer mentorship program, which pairs American and international student leaders with incoming international students.
Hetzell recalls a time when a peer-to-peer leader told her about a Korean student who had been at Temple for more than six weeks, but had never left Main Campus. It became that leader's mission to show her other Philadelphia neighborhoods.
"Now, she's actually applying to be one of the leaders for next year," Hetzell said. "She's involved. She's found her place at Temple. But that only happened because we were making an effort to intervene."
Finding Your Team
Irem Asci enjoys mainstream music — popular artists like Sam Smith, Adele and Rihanna.
But ever since she left her home country of Turkey in 2014 to play volleyball for the University of North Carolina at Charlotte, she's started to listen to more Turkish music, too.
"My parents were really surprised," Asci said. "She's like, 'You know this song?' I'm like, 'Yeah, mom. I'm Turkish too.'"
Asci transferred to Temple after one season at UNC Charlotte because her coach, Gokhan Yilmaz, resigned in January 2015.
The chance to play a sport while obtaining a college degree often draws student-athletes like Asci to U.S. schools. This academic year, international student-athletes represented 25 countries, including Trinidad, the United Kingdom and Croatia.
Asci has connected with several fellow international teammates since arriving at Temple. During her first year, she shared a room with Carla Guennewig, a junior middle blocker from Germany. She is also close with Serbian outside hitter Dara Peric and Croatian middle blocker Iva Deak.
And she's still connected with international alumni — Asci often visits former setter Sandra Sydlik, a 2015 marketing alumna from Germany, and Semen Sen, a 2016 UNC Charlotte international business alumna from Turkey, in their homes in New York.
For international student-athletes, support from their teammates helps them adjust to a new country.
"You go to a different country, different culture, no friends, no family here, different language," said Hermann Doerner, a senior men's soccer player from Germany. "Basically everything is different. But I think I'm a part of a team with 32 guys, and I was able to adjust really well with them. They helped me a lot."
Doerner has also befriended Kari Weiner, a fellow German native and freshman foil on the fencing team.
Kathryn Edgar, a junior midfielder on the field hockey team from Northern Ireland, said her teammates helped her transition to a brand new culture. But at times, she finds it difficult to meet people outside athletics because her schedule is so intense.
"It is challenging at times to kind of go outside of that box and outside of our comfort zone," Edgar said. "But it's still a main goal of mine to meet more people outside and reach different kind of groups of people outside of the sports realm here."
"It's actually really nice to be an athlete, because you get in the community when you get in and you're actually forced to hang out with other people," Asci said. "When you don't have any group of people you always hang out, you're so isolated. It makes it harder to adjust to the culture."
The Commonalities
Zhang, a Ph.D. law student from China, misses a lot about Beijing. She misses the food, the culture. More than that, she misses her family and friends. Some days, living in America is isolating.
"I'm not a part of this," she said. "I know nothing about Philadelphia, and I have no friends here."
Challenging as the obstacles may be, Zhang and other international students have found ways to cope.
On the days she feels most homesick, Zhang listens to her favorite podcast.
There's one in particular that offers her solace in hard times. "Modern Love," produced by Boston NPR-affiliate WBUR and the New York Times, is an audio series in which people share the joys and hardships of love.
The podcast is only produced in English. Still, its message is comforting for Zhang. It reminds her of the love she feels for her family and friends who are thousands of miles away.
"People speak in different languages, but they all have something in common," she said. "Love is common. Friendship is common. It's not about the culture. It's about human beings."
At Temple, Zhang joined the Badminton Club — and she's pretty good. When American students ignore her in her classes, they'll pay attention to her at the gym.
"There are some native speakers in that club, and sometimes, I'm playing better than them, so they're willing to play with me," Zhang said.
"I feel a sense of belonging," she added. "You are in a totally strange circumstance, and you feel lonely. I like the sense of belonging."
For Zhang, the sense of belonging has manifested in her personal life. She's made friends through badminton — some international students, some domestic. This semester — her second at the university — she hosted a party for the Badminton Club in her Oxford Village apartment to celebrate the Chinese New Year. She even cooked homemade dumplings.
One of her friends from the club is Anirban Swakshar, a physics Ph.D. student from Bangladesh. When he moved to Philadelphia last semester, it was the first time Swakshar ever left his native country.
Unlike others, adjusting to academics in the U.S. came naturally for Swakshar. Physics is mostly math — the same no matter which language you speak. Plus, many of his professors in Bangladesh earned their degrees in the U.S., too, and inherited an American style of teaching.
Still, Swakshar misses his family and friends. He also misses the food — a complaint shared by Huy Nguyen, a sophomore economics major from Vietnam. Nguyen and his roommates, who are also from his native country, will buy Vietnamese food at Center City markets to prepare in their apartment.
Nguyen said the smell of the cooking reminds him of home.
One day in Fall 2017, Swakshar was so homesick, he couldn't sleep.
At midnight, Swakshar took the Broad Street Line to City Hall. It was only the second time he made it to Center City since moving to the U.S.
The air was cool that night, and the sidewalks and streets were free of traffic. He saw people sleeping on benches and in subway stations, reminding him of people experiencing homelessness in Bangladesh. He thought, perhaps Philadelphia was more like his old city than he originally thought.
That night — for the first time since he moved to the U.S. — Swakshar felt at home in Philadelphia.
"I realized that the main thing, wherever I come, the characteristics of people doesn't change," he said. "It doesn't matter country to country."
"Everyone is unknown to you," Swakshar added. "When you're born, your mother is unknown to you. Unknown doesn't matter. If you don't talk, then how will you know each other? When we talk with each other, we become friends."
EDITOR'S NOTE: Xiaoye Xu previously worked at The Temple News as the advertising manager. He had no part in the reporting or editing of this story.
The Temple News Staff can be reached at news@temple-news.com or on Twitter @TheTempleNews.
Words by Michaela Winberg, Grace Shallow, Jenny Roberts, Julie Christie, Gillian McGoldrick, Jayna Schaffer, Emily Scott, Evan Easterling, Tom Ignudo, Ian Walker and Will Bleier.
Photos by Sydney Schaefer and Jamie Cottrell.
Graphics by Courtney Redmon and Julie Christie.
Video by Jake Cepis.
Produced and designed by Julie Christie.
First published May 8, 2018.