The floor in the Interfaith Prayer Space is covered in red prayer rugs positioned so students can face Mecca. The room, nestled in a corner of the Student Center's third floor, is the size of a small office, and its walls are bare except for a single clock.
"Because it's an interfaith prayer room, we're not allowed to hang things, we're not allowed to change anything," said Fahtma Saad, a sophomore psychology major and secretary of the Muslim Students Association. "The fact that we're even allowed to keep the prayer mats down is a big plus."
Practicing Muslims are required to pray five times per day. This requirement, called "salat," is one of the Five Pillars of Islam, which are duties required of every Muslim. The prayers are "Al-Fajr," "Al-Zhur," "Al-'Asr," "Al-Maghrib" and "Al-'Isha." The times of these prayers change slightly throughout the year as the time of sunrise changes.
Before each prayer, Muslims must perform "wudu," a cleansing practice that requires them to wash their hands, mouth, nose, face, arms, head, ears and feet with water. Besides the head and ears, all other body parts must be washed three times.
Depending how much time each student spends on Main Campus on a given day, they may have to pray twice here and three times at home, while other students may need to pray four times a day on campus.
Students said the Interfaith Prayer Space can become crowded due to its limited size and the number of students who use it. Some can't use this space at all due to their limited amount of time between classes. As a result, some students try to find their own spaces to pray on campus, or they wait until they leave campus.
Some Muslim students see a need for more spaces to pray on Main Campus.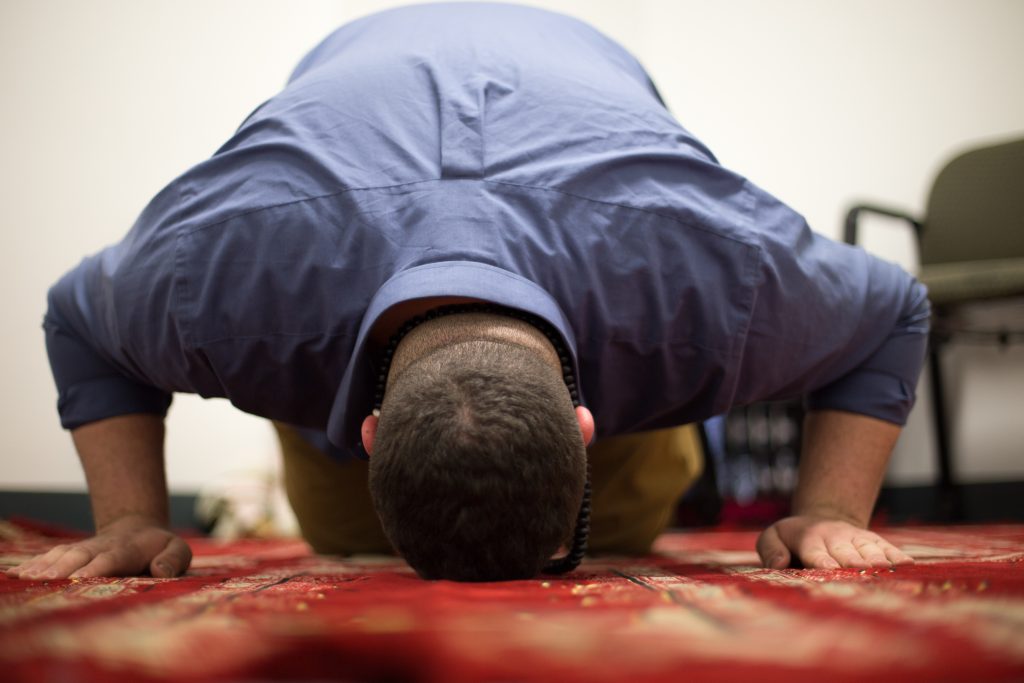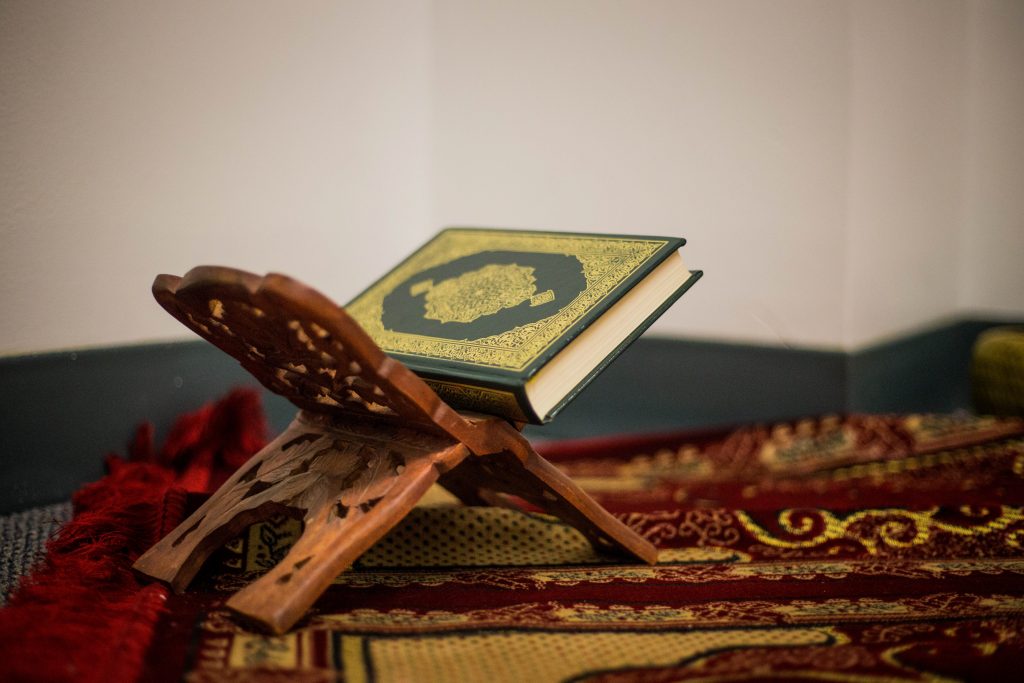 Saad said when prayer time begins, about 15 to 20 people try to access the Interfaith Prayer Space, which fits about eight people.
Hannah Keogh, who converted to Islam last year, said there isn't enough room to keep at a distance from men who are praying. Men and women can pray together, but there is usually a divider or open space separating them in traditional mosques. Temple's prayer room does not have a divider.
"Men and women are supposed to be separated," said Keogh, a senior early childhood education major. "And we do pray behind the men, but sometimes it's just a little too close and I just don't feel comfortable."
But Quaiser Abdullah, an adult & organizational development professor and the faculty adviser of MSA, believes the current space is fulfilling the needs of students.
Abdullah, a 2003 political science and religion alumnus, was the president of MSA during his junior year. He wrote a proposal to the Division of Student Affairs as president asking for an interfaith space and a washing area for "wudu."
As a result, washing stations were created in the men's and women's bathrooms on the second floor of the Student Center.
Abdullah said many students don't use the washing stations or know they exist because they are on the north side of the Student Center, while the Interfaith Prayer Space is on the south side.
"We pray over here so it's just more convenient to go to the bathroom nearby," Keogh said. "I'd rather just put my feet in the sink."
"You find creative ways to make your prayer … because that's what we are required to do," Abdullah said. "It's not always convenient because [at] Temple … space is always a commodity."
The MSA has also created a makeshift space for prayer under the staircases in Tuttleman Learning Center.
Hira Majid, a senior biomedical engineering major, said she thinks there should be more spaces to pray scattered throughout campus.
"Even if it's just like a room or a little office or even like a closet," said Majid, president of Temple's chapter of the United Muslim Relief, an organization that raises money to alleviate poverty with a focus on Muslim populations. "In every building, there could be at least one room, like in the TECH Center, it would be really convenient if there was just like a room and you could just pray."
Ali Murad, a sophomore neuroscience major and the Islamic education chair of MSA, said he spoke with Samantha Dauber, a tech support specialist, at the TECH Center service desk to see if a space could be sectioned off for Muslim students to pray under a stairwell.
Murad said he was told that praying under the stairwell was not allowed for safety reasons. But Dauber later emailed Murad to let him know he could pray in the hallway behind the music lab.
Sabrina Zouaghi, a sophomore bioengineering major and international student from Algeria, agreed having space at the TECH Center would be helpful so she doesn't have to leave in the middle of her work.
Last fall, Zouaghi tried to pray in a breakout room at the TECH Center, but she was interrupted by other students.
"I cannot talk if I'm praying, and I understand that people do not know that, but once you're [saying] the prayer you cannot stop," she said.
"So people came to me and they're like, 'Excuse me, excuse me,'" she said. "I was thinking in my head, 'I cannot talk.' … I felt like I was being rude because they were talking to me and I was just ignoring them."
Now Zouaghi delays her prayer until she gets home, which she said she technically shouldn't do — the point of prayer is to make time to be spiritual throughout the day.
Abdullah said this is a concern other Muslim students have expressed.
"I would definitely say post-November 2016, the concern heightened," Abdullah said. "Because you never know what may happen if you're praying and then somebody sees you praying, what that can turn into."
---
Following the election of President Donald Trump in November, MSA reached out to University President Richard Englert for a meeting. They spoke a week after the election.
"We just talked in general," Englert said. "I wanted to reassure them that we would definitely do whatever it is to make our students feel comfortable."
In the days following the election, there were reports of hostile confrontations involving minority students at campuses across the country, including some attacks on Muslim women who were wearing a hijab, a headscarf worn for modesty.
In November, Trump made several vague comments about the possibility of a registry of Muslims living in the United States. In December, Trump proposed to ban immigration for all Muslims.
"It just kind of heightened whatever ill feeling people had toward Muslims," Murad said of Trump's election. "It was kind of just like an unveiling rather than a creation of issues."
On Nov. 14, Englert and Provost JoAnne Epps sent an email to the university community to address these reported "acts of violence and intimidation."
'There seemed to be this idea that Muslims were going to be in the spotlight... of this administration.'

Quaiser Abdullah
The email outlined resources available to students, faculty and staff like Tuttleman Counseling Services and the Office of Institutional Diversity, Equity, Advocacy and Leadership, a space dedicated to multiculturalism and diversity.
Shortly after the presidential inauguration, Trump signed an executive order banning travel from seven Muslim-majority countries to the United States on Jan. 27.
On Jan. 29, a message from Abdullah was forwarded to MSA's email listing.
"We know this is a targeted Muslim ban," he wrote. "The president has chosen to take the approach of discrimination and hate in an attempt to satisfy a need to feel safe."
On the same day, Englert sent out an email to the university community that referred those concerned about their immigration status to International Student and Scholar Services.
"Students were worried because it seemed like this was the start of a promise that was made during the campaign," Abdullah said. "There seemed to be this idea that Muslims were going to be in the spotlight … of this administration."
Islam is the fastest growing religion in the world, and there are an estimated 200,000 Muslims in Philadelphia. The university, however, does not collect data on students' religions.
Some Muslim students said their faith comes up in Intellectual Heritage, political science and sociology classes. Some students willingly discuss their faith, while others feel put on the spot.
"There's not many of us in each class," said Ibrahim Souadda, a senior film and media arts major and MSA's president. "You're like the resident expert on the religion, and you speak for every Muslim on the earth, which in general is not a good thing."
---
Anytime Souadda speaks with someone "important" at the university, he asks for more space.
He said he advocates mostly for a religious life center or a cultural center on Main Campus.
"Temple has a budget, and they spend it on things like football stadiums and athletics," he said. "Maybe a more productive way of spending money is increasing communal spaces, and maybe taking care of your student body in a more practical day-to-day way."
Souadda mentioned his idea for an interfaith prayer center to Englert last semester in the meeting following the presidential election.
Englert told Souadda such a space wouldn't be financially feasible. The university was already undertaking construction projects like the new library and the Student Health and Wellness Center.
"Those are major, major investments," Englert told The Temple News. "And there are probably buildings for lots of purposes that we could do, but we have to invest our resources wisely in the buildings that are most needed as we go."
Englert said Souadda offered a "very thoughtful suggestion," but that currently an interfaith or cultural center is not on the "immediate horizon."
Father Shaun Mahoney is the director of the Temple University Newman Center, a Catholic ministry for students on Broad Street near Susquehanna Avenue. He remembers meeting with former University President David Adamany in the early 2000s to discuss using space in the Baptist Temple — now the Temple Performing Arts Center — as an interfaith area.
Mahoney said he met with Adamany and other members of Temple's Interfaith Council. But the president said the space was needed for the arts. Adamany also told the council that the space wouldn't be an appropriate area for an interfaith space because it contains Christian symbols.
Englert said he hasn't heard that space is a "major issue" from other students.
"My understanding is that Student Affairs provides space to students both in the residence halls and the Student Activities Center," Englert said. "That's what we do for all our students, for all purposes."
Student Center Operations allows students to reserve spaces in the Student Center, Morgan Hall and Mitten Hall.
Catholic and Jewish students on Main Campus have access to facilities separate from the university for services and religious events.
While student leaders at the Newman Center have registered it as a student organization through the university, the physical space the center occupies is owned and funded by the Archdiocese of Philadelphia.
Jewish students on Main Campus have registered Hillel at Temple as a student organization, and they also have access to The Edward H. Rosen Center for Jewish Life at the corner of 15th and Norris streets. The center was created in 2009 with the help of Rosen, a former university trustee who died in October 2014.
The closest mosque to Main Campus is Makkah Masjid on Susquehanna Avenue near Park, but it does not have a connection to the university.
Muslim students instead use the Student Center to hold events and services. On Fridays, the MSA uses the Underground for Jummah, a congregational prayer held every Friday around 1 p.m.
But the Underground isn't always available, and they sometimes defer to Morgan Hall.
There are only three reservation spaces large enough to fit the 100 or so students who attend Jummah: the Underground, Student Center Room 217 A&B and Morgan Hall Room D301. The MSA is not guaranteed access to these spaces. Last Friday, the MSA could not book any of the spaces large enough for Jummah, so students had to complete the prayer off campus.
Student organizations can also only book two reservations through the Student Center each week, a policy that will change in Fall 2017.
For the MSA, this means one of its reservations is used every week to schedule Jummah, limiting other events and meetings the organization can have.
After he spoke with Souadda in preparation for last semester, Chris Carey, the senior director of Student Activities, reached out to Student Center Operations to see if Jummah could be considered "a non-organization reservation," meaning it wouldn't count toward MSA's two weekly allowances.
"And my response at that point was, 'Unfortunately, there isn't a way to do that,'" said Jason Levy, the senior director of Student Center Operations.
"If we go down that path, then any student organization can say, 'We want more than two,' because literally every student organization can serve the entire community," Levy said. "For me, it was a slippery-slope request because there's a lot of groups that would want to do that same thing. We just don't have the space."
Levy said Student Center Operations only has 19 reservable spaces, and there are about 390 registered student organizations.
Souadda also spoke with Tiffenia Archie, the assistant vice president of IDEAL, about using a lecture room at IDEAL's building, the Burrow, for Jummah. But the space, at Broad Street near Diamond, was not suited to fit the number of students who attend while still being able to face in the direction necessary for prayer.
"People have been helpful," Souadda said. "But there's only so much you can do when the system ties your hands."
"You do what you have to do, but I think if Temple is going to pride itself on diversity and culture and that's going to be the big thing … students need to feel comfortable on campus," he added.
---

Jenny Roberts can be reached at jenny.roberts@temple.edu or on Twitter @JennyRoberts511.
Photos by Shefa Ahsan, Elena Iwata and Max Simons.
Video by Abbie Lee.
Graphics by Donna Fanelle.
Produced and designed by Donna Fanelle and Jenny Roberts.
First published on April 25, 2017.