It was the final study day of Fall 2013, but studying seemed pointless to Misha Kustin.
Kustin, then a freshman on the men's gymnastics team, found out that day that his sport would be cut. Softball, baseball and men's indoor and outdoor track & field were also set to be eliminated. Crew and rowing were also cut, but were later reinstated when an agreement was reached to renovate the East Park Canoe House along the Schuylkill River Trail at no cost to the university.
The men's gymnastics team practiced in almost complete silence that day in Pearson 143, working to make the most of the time it had left.
"It seemed like everywhere I went there was just this dull, numbing silence surrounding me and everybody was feeling the same way," said Antone Wright, a senior on the men's gymnastics club team who was a freshman in 2014. "Everybody was feeling that kind of like, you know, this deep emotional punch in the chest."
The Board of Trustees unanimously approved the recommendation to cut the sports after a seven-month analysis of the university's athletic budget, facilities and the cost to upgrade them. Title IX spending imbalances played a part in the men's sports cuts, according to a university release.
Student-athletes received an email informing them of a mandatory meeting in the Student Pavilion on Dec. 6, 2013. Kevin Clark, the former athletic director and current executive vice president and chief operating officer, delivered the announcement in less than three minutes.
"It was, to me, being told like your child just died," said Kustin, now a senior mechanical engineering major. "I don't want to put it that bad, but like this is my dream coming true, competing in D-I gymnastics, and it just felt like it was snatched away from me."
"It was just like a bomb just dropped in the Pavilion when they told us," said Jimmy Kerrigan, then a sophomore baseball player who later transferred to Virginia Commonwealth University. "Everybody was really just kind of in panic mode."
Coaches left for other jobs while student-athletes had to decide whether to stay at Temple or transfer to another school to compete. Students who were freshmen then are now mostly seniors, preparing to graduate after a different journey than they once expected.
---
'Not the traditional path'
Simon Mathews didn't expect to pitch on Feb. 13, 2015, the night of his first game with Georgetown University, but he said he was still a little "afraid" as he sat in the bullpen at Wake Forest's David F. Couch Ballpark.
After Temple announced it was cutting its baseball program, Mathews, then a freshman geography and urban studies major, used winter break to reconnect with schools that recruited him while he was in high school. Once the season began and he started pitching poorly, he said, the only school that was still interested in him was Georgetown.
In 12 games with Temple in 2014, he had an 0-7 record and an earned run average higher than 10. Mathews called himself the "worst pitcher" in Division I.
Georgetown coach Pete Wilk and former pitching coach Erik Supplee didn't care about Mathews' statistics from his freshman year, Mathews said. Wilk and Supplee offered him a scholarship.
Their trust paid off.
Mathews finished the 2015 season with a 3.57 ERA to help the Hoyas reach their first Big East tournament since 1986. Last season, he was the team's Saturday starter during league games and led the team in innings pitched. He started 13 games and won five of them, posting a 2.45 ERA. Mathews, now a senior, is a team captain and earned preseason all-conference distinction.
"It's not the traditional path through college athletics, certainly not through college baseball, but it's certainly been a fun one and certainly helped me get better," Mathews said.
Kerrigan was the second batter for Virginia Commonwealth to step to the plate in the bottom of the fifth inning to face Mathews on that February 2015 night. The year before, the two were teammates.
Kerrigan went 1-for-2 against Mathews, getting an infield single in the seventh inning for his first hit as a Ram.
Kerrigan led the Rams in on-base percentage and stolen bases in 2015 to help Virginia Commonwealth win the Atlantic 10 Conference and reach the Super Regional round of the College World Series. He was tied for the team lead in doubles, RBI and stolen bases last season, helping the Rams reach the Atlantic 10 tournament semifinal.
Kerrigan grew up in South Philadelphia and is a 2012 alumnus of Saints Neumann Goretti High School, which won three Philadelphia Catholic League titles in his career. He was in former Owls' coach Ryan Wheeler's first recruiting class.
"I look back, I'm like, 'I wonder what it would have been like to just kind of stay around here and kind of be the leaders of a team, like with those guys junior and senior year, and kind of see where we were going in a new conference,'" Kerrigan said.
"I'm not mad," he added. "I mean, it worked out. I got a ring out of it so, and I got to meet some new people and get to go to VCU and just like go see different places and stuff, so that's been nice."
Once he realized he'd have to transfer to continue his baseball career, Kerrigan sent emails to every school on Temple's 2014 schedule, including Radford University and St. Joseph's, both of which he visited. He considered staying in Philadelphia and transferring to St. Joe's, but decided to head to Richmond, Virginia instead. Temple and Virginia Commonwealth's campuses are similar, he said, and when he visited toward the end of Spring 2014, "it just felt right."
Kerrigan has used all four years of his NCAA eligibility and will graduate with a health, physical education and exercise science degree in May, after taking an extra two semesters of classes. He will intern with Rams' Director of Sports Performance Tim Kontos as he pursues a career as a college strength coach.
On Dec. 13, 2016, Kerrigan signed a contract to play professionally in Missouri with the River City Rascals. The Rascals play in the Frontier League, based in the Midwest and unaffiliated with MLB. He said he'll report to spring training in late April.
"I'm excited to get started," Kerrigan said. "It's an opportunity for sure. You gotta take advantage of it."
---
Murray State University's softball team traveled from Kentucky to Conway, South Carolina in mid-February 2015 for a weekend slate of four games. The Racers' last game was against host Coastal Carolina University.
When Coastal Carolina sent Kelsey Dominik to the mound to start the game, Kaylyn Zierke didn't mind that she wasn't in the lineup. She didn't want to hit off her old teammate.
In 2014, Zierke was a freshman and Dominik was a sophomore on Temple's softball team.
"I would have went up and probably would have never took the bat off my shoulder," Zierke said. "But she probably would have walked me, because we both have that same feeling."
Dominik started in all 45 games at either pitcher or first base, finishing tied for second on the team in RBI. Zierke started in 44 of the Owls' games, including 34 at catcher. She caught 15 of Dominik's 20 starts on the mound, including Temple's American Athletic Conference tournament game against the University of Louisville.
Zierke said the two remained training partners even after they transferred to different schools. Dominik is still one of her best friends.
Zierke remains close with several of her former Temple teammates. In Summer 2015, Erin Drennan, Jessica Haug, Amanda Gatt and Zierke took a trip to California to visit Toni Santos, who started 39 games as freshman in 2014. Santos is currently a senior outfielder for the University of the Pacific, near California's Bay Area.
They spent about a week living in Santos' house, hanging out and sightseeing, Gatt said. Zierke, Santos, Gatt and Cassidy Trause, all freshmen in 2014, shared a suite on the fourth floor of Morgan Hall South. Drennan lived across the hallway and Haug lived upstairs.
"It wasn't just like we were teammates," Gatt said. "We definitely became like very, very close friends, so it was very tough to leave everyone."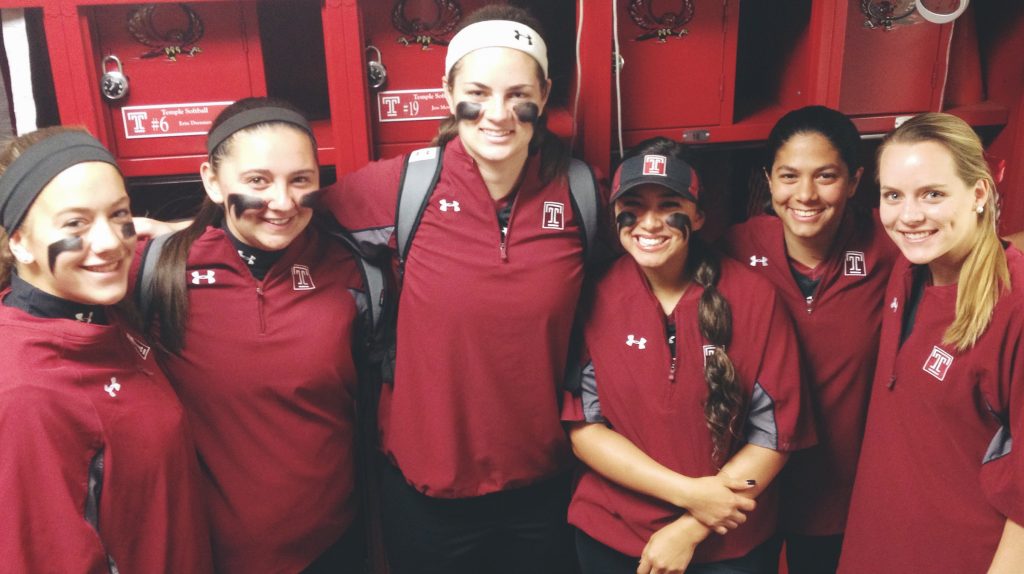 After starting all but one game for Temple, Zierke only started 17 of Murray State's 57 games in 2015. She leaned on her old teammates for guidance.
"A lot of people don't understand what exactly happened," Zierke said. "So when you transfer they're like, 'Oh, you probably left because something was wrong with you.' And I was like, 'No, my team got cut.' … No one knows what it feels like except for the people that actually went through it."
Zierke returned to Philadelphia in 2015, this time to St. Joe's. Her former coach at Temple, Joe DiPietro, contacted Hawks' assistant coach Brooke Darreff — a graduate assistant for the Owls in 2012 — to see if they needed a catcher.
St. Joe's played Drexel University — where DiPietro is in his first year as an assistant coach — last fall, and will face the Dragons again in May. Dominik, now an assistant coach at La Salle, will share the field with Zierke again on April 26 when the Explorers host a doubleheader against the Hawks.
Zierke enters this season after earning first team Atlantic 10 distinction in 2016. The difference between her 2015 and 2016 seasons was the opportunity to play, she said. She started in all 52 games of St. Joe's run to the Atlantic 10 championship. She wrote "TUSB" on her wrist before every game.
"I took a different mindset that year, and I just played for the girls that aren't playing anymore," Zierke said. "Because we have players that quit their teams, leave their teams, go back to Temple, everything like that. If that Temple thing never happened, they would still be playing at Temple. So it's more like that mindset of 'play for them.'"
Gatt is one of those students who isn't playing anymore. She transferred to Siena College, near her hometown of Voorheesville, New York, for the 2014-15 academic year.
She earned second team all-Metro Atlantic Athletic Conference honors while at Siena, winning 10 games on the mound. But Gatt wasn't as happy as she was at Temple. She quit the team in the fall of her junior year and without her softball scholarship, decided to transfer to the University at Albany, where her father works.
She graduated from Albany in December with a psychology major and sociology minor. In January, Gatt worked two part-time jobs, including giving softball lessons, while she applied to graduate school.
"It wasn't so much about the college experience anymore," Gatt said. "It was kind of picking a school to finish my education."
Haug always wanted to go to either Penn State or Temple. The opportunity to play college softball swayed her toward Temple.
After the softball program was cut, Haug transferred to Penn State Abington. Instead of softball, she tried out for the women's basketball team despite not having played since her sophomore year of high school. She played nine games as a sophomore in the 2014-15 season for a Nittany Lions' squad that played in the Division III tournament in Oregon.
She now has a second shot at Division I softball this season at Penn State's main campus. She transferred to University Park in Fall 2015 and played club softball before she walked onto the Nittany Lions' roster in Spring 2016.
Gatt and others ask what could have happened if their teams had all four years.
Instead of heading into their senior year together, the freshmen from the 2014 softball team now communicate through a group chat.
"It's more of a stability here, but it's not the same that it was at Temple," Zierke said. "It's just something that I kind of like had to let go and get over."
---
Pat Krall stood in line with his mom and girlfriend waiting to get inside the Georgia Aquarium in Atlanta in June 2016 when he got a phone call. It was a scout. The St. Louis Cardinals selected him in the 28th round of the MLB draft.
Instead of signing a professional contract, Krall decided to return to Clemson University in South Carolina to finish his college career, which began at Temple and took him to two different schools with three different coaches in his first three years.
After the cuts were announced, Krall talked to then redshirt-senior corner infielder Robert Amaro's dad David, who played baseball at Duke University.
"'Treat this spring year like an opening tryout, like for high school almost,'" David told him.
Proving himself wasn't anything new for Krall. When he was in high school, he received offers from Pennsylvania State Athletic Conference schools at the Division II level, like Millersville University and West Chester University, but Temple was the only Division I school to offer him a spot. The cuts were almost like a second chance out of high school.
In 16 games as a freshman in 2014, Krall held opponents to a .181 batting average in 27.1 innings pitched to win co-Big 5 Rookie of the Year.
Krall went from pitching in front of crowds of mostly parents in Temple's 2014 home games to playing in front of thousands. While Temple averaged less than 200 fans in its 16 home games in its final season, Clemson averaged 4,664 fans at its home games at Doug Kingsmore Stadium in 2016. The size of crowds had him shellshocked at first, Krall said.
At Temple, Krall was one of four freshmen and two transfers, but at Clemson, he was one of the more than 10 new players on the roster fighting for playing time.
"It wasn't like, 'Oh, yeah, you're kind of on the team, because of roster spots,'" Krall said. "It was kind of like, 'If you don't perform, you're going to have to look elsewhere to play if you really want to play.'"
He led the team in appearances in his first year with the Tigers in 2015, and only allowed four of the 23 runners he inherited to score. The 6-foot-6-inch lefthander followed up his 2015 season with a 10-2 record and 1.67 ERA in 26 relief outings and three starts in 2016. His ERA was less than one and his strikeouts-to-walks ratio was four to one in his relief appearances.
When Krall was at Temple, the Downingtown West High School alumnus' mom could easily make it to games. But when he made his first-career start at Clemson on Mother's Day 2016 against North Carolina State University, his mother, Sharon, was in the stands to watch him pitch for only the fourth time in the 2016 season. She watched him earn a complete game victory.
Krall has made his mark on Clemson's record books. Using craftiness and deception instead of overpowering hitters, he finished seventh in Division I in ERA and 10th in walks and hits allowed per innings pitched in 2016, while also winning the team's most valuable pitcher award. He ranks ninth in Tiger history in appearances and became the first Tiger to win ACC Scholar Athlete of the Year.
He also became the first Clemson relief pitcher to earn first-team All-America honors since 1995, when Scott Winchester, who pitched in the majors with the Cincinnati Reds from 1997-01, did it.
This season, Krall is a full-time starting pitcher for the first time. He hopes he can carve out his own big-league career.
"Just looking at what I've done from high school to now, there's no doubt in my mind I can make it all the way," Krall said. "With the right guidance, I think I could do it. … So I'm really looking forward to just saying I play at that level and if I ever do reach the big time show, being able to talk to friends like, 'Yeah, one of us did make it, guys.'"
---
In our March 21 issue, The Temple News will highlight the athletes who stayed here when their sports were cut.
Evan Easterling can be reached at evan.easterling@temple.edu or on Twitter @Evan_Easterling.
Photos by Evan Easterling and courtesy of Jimmy Kerrigan, Amanda Gatt and Pat Krall.
Videos by Evan Easterling and Linh Than.
Graphics by Courtney Redmon.
Produced and designed by Donna Fanelle and Evan Easterling.
First published on March 7, 2017.