After working 35 hours in a stuffy, small office on Dublin's north side, I yearned for the chance to relax and have a pint of Carlsberg beer with friends.
I interned at a newspaper in Dublin this summer and I quickly found my "place" to drink a pint. The Workman's Club faces the River Liffey, a waterway that divides the city's north and south sides. The darkening blue sky and street lights reflected on the river, leaving me relaxed and warm after the seven-hour day.
It wasn't necessarily the Carlsberg that made me feel warm. It was the end-of-day sunlight waning in through Workman's second-floor windows, brightening the checkered linoleum floor. It was the familiarity and personality of the bartenders. It was my friends, whose laughter echoed through the relatively empty bar.
What I really enjoyed about Workman's was its flexibility. After 9 p.m., the club was packed with young Irish faces, and even visitors like me. On the first floor, you could catch local or international artists playing in a cabaret-like room with maroon walls. In contrast, on the second floor, you'd find a DJ playing pop and EDM tracks, with bar-goers jumping and stirring. The movement could be felt from the first floor.
There's a theme here — a loose one — but it's all tied together through individuality. It's not always about the Happy Hour deals, or a tasteful whiskey sour, but often it's about the warm feeling you get after you find your place to relax after a long week of work or classes. Temple's nearly 40,000 students all have different interests and quirks. In this year's Bar Guide, The Temple News gives an inside look into the city's top bars, whether you're interested in music, good food, dancing or dive bars.
Whatever fills you with warmth on your days off, there's a place for you here.
-Emily Scott, Features Editor
---
F I N D   T H E   B A R S
---
John Bradley's favorite dish at the London Grill is the signature London Burger with a fried egg.
"Once you start eating it, there's no stopping," said Bradley, the bar's manager and a 2014 finance alumnus. "Once it's cracked, it becomes a mess."
London Grill is a restaurant and bar on Fairmount Avenue near 23rd Street. The building has been a bar since 1843, but 1981 English and communications alumna Terry Berch McNally and Chef Michael McNally took ownership of the bar in 1991. When it first opened in the 19th century, it was called the Golden Lager Saloon, Bradley said.
Paris Wine Bar, London Grill's sister restaurant opened next door in 2012. The French-inspired space serves local wines.
The friendly, relaxed atmosphere extends from the restaurant and bar areas to its outdoor seating.
Ronald Turner, a senior architecture major and waiter, said a lot of college students visit the bar regularly.
"I think a lot of people are looking for that kind of place that's away from campus, something that's a different atmosphere," Turner said. "It's just the perfect spot to get out and do your thing and not feel the weight of school or anything like that."
Bradley said the Szechuan duck spring rolls — which have been on the menu for 20 years — are the best appetizer on the menu.
The London Grill has an extensive back bar. It's known for craft beers and cocktails, like the sweet tea vodka, house lemonade cocktail and the Chocolate Cherry Love Child, made with cherry vodka, chocolate bitters, Yards Love Stout and Coca-Cola. One of the bar's specialty beers is Stoudt's Willie Sutton lager, which was named after a resident who lived across the street from the London Grill.
"We do have one of the most extensive back bars in the city," Bradley said. "We have hundreds of bottles behind there. So if you came in and wanted something, more than likely, I could make it."
-Moriah Thoman
---
Standard Tap's menu changes daily, but when The Temple News visited late last month, the specials included eccentric dishes like smoked veal tongue with tonnato sauce and beef cheeks served over house-made gnocchi. Tonnato is a mayo-based sauce and is flavored with tuna.
Call it a step up from your typical "bar food" and a place you wouldn't mind taking your parents.
"We try to do something a little more eclectic, a little more out of the box, and I'm an adventurous eater so that's another reason I love working here," said Gregg Gordon, who has managed the Northern Liberties tavern since May after three and a half years at Johnny Brenda's in Fishtown.
He recommends the veal tongue.
In November, Standard Tap hired head chef Joel Mazigian, who has been butchering and aging meats in-house, which helps cut down on waste. That's also led to the addition of items like dry-aged steak and stout-and-wine-braised brisket to what was once a seafood-heavy menu. Smelt fish, clams, oysters, mussels and prawns are still served.
For those less adventurous than Gordon, the bar's 7-ounce Black Angus burger — served on a Brioche bun with Monterey Jack cheese, sliced onion and lettuce with a side of french fries — is up for a Philadelphia Magazine "Best of Philly" award. The roast pork sandwich and chicken pie are other staples.
Since they're serving different dishes every day, Standard Tap doesn't print menus. Instead they write the day's menu and draught list on chalkboards hung throughout the polished-wood and brick space at 2nd and Poplar streets. Seating is available on a breezy, covered roof deck in warmer weather.
Besides the food, the beer — poured from 22 taps and two hand pumps — is shipped exclusively from craft breweries within 90 miles of Philadelphia. The draught changes often, but tends to have a sizable portion of flavorful stouts and IPAs.
Each week, Standard Tap features a different brewer and offers their brews at half price during Happy Hour, which is 4 to 6 p.m. Monday through Friday. Last week, the bar featured three beers from the Aston-based 2SP Brewery, including Dunkel AF, which 2SP brewed specifically for Standard Tap's beer manager.
Besides the Dunkel, a smooth light-bodied beer with notes of chocolate and raisin, the bar featured 2SP's Delco Lager and ASAP, a session IPA. The most popular brewery at Standard Tap is Tired Hands, Gordon said.
-Joe Brandt, Editor-in-Chief
The food at Bourbon & Branch is perfect if you miss your grandma's cooking, Larissa Karan, the bar's services manager, said.
Bourbon & Branch, on 2nd Street near Fairmount Avenue, is a restaurant and live music bar. The Northern Liberties bar focuses on cooking delicious food at low prices, accompanied by musical performances every night.
"It's super casual and very comfortable," Karan said. "It's just a good place to chat with the people who work here, hang out with your friends, eat delicious food and, of course, drink."
The restaurant menu at Bourbon & Branch is inspired by southern Creole cooking, which Alex Carbonell — the executive chef and owner — became interested in after he started cooking Cuban "comida criolla," or local cuisine, when he was growing up in Florida.
Carbonell took over the restaurant in 2014 and renamed it Bourbon & Branch after his wife's favorite drink. He has opened five restaurants so far in his career.
Until 2 p.m. on weekends, the downstairs restaurant serves Southern-style brunch. The menu features a $14 eggs benedict topped with pork that is slow-smoked for 30 hours. The dish is served with Texas Toast, poached eggs, roasted tomato and a beer-cheese sauce to tie it all together.
It also has a Quizzo night every Monday, when customers can win $50 in cash by competing in the trivia game and a finalist can win $500 at the end of a tournament.
Karan said the upstairs section of Bourbon & Branch has shows almost every night, including hip hop, comedy, indie and drag shows.
Bourbon & Branch began hosting singer-songwriter Jesse Hale Moore, a 2010 film and media arts alumnus, as an artist-in-residency last week. He will play on Thursday and again on March 16. Kingfisher, a jazz-rock fusion band made up of Temple students, will play on March 24.
The bar also has a large selection of bourbons, fitting with its name.
It also offers specialty drinks like "The Flaming Ricky," which has pitted cherries flambéed with raw sugar, St. Germain liqueur, cardamom-infused gin, lime and Angostura, a botanically-infused alcoholic mixture.
At Bourbon & Branch, happy hour is on weekdays from 5 to 7 p.m.  (on Tuesdays and Wednesdays, another happy hour goes from 9-11 p.m. and features $5 whiskey cocktails.
-Taylor Horn
---
When guests arrive at Time Restaurant, they have a choice between three completely different bar areas.
"We like to say it's like three venues in one," said Bryan Mullen, Time's general manager.
The three sections of Time include a live music dining room with dim lights that create a romantic feel, a sports whiskey bar made of dark-stained wood and an upstairs club with DJs who play every Friday and Saturday night.
The dining room and bar menus change seasonally, and Time will change to its spring menu in the next few weeks.
Mullen's current favorite dish is the $26 pan-seared duck breast, which is a shredded duck confit with oyster mushrooms, cheddar grits and grilled greens, all cooked in a red wine berry reduction.
At the bar, they pour about 200 different whiskeys currently, including scotches, bourbons and ryes. The whiskey comes from places all over the world like Ireland, Japan and France.
There are also 20 different draft beers including local Pennsylvania drafts like Purple Monkey Dishwasher from the city's Evil Genius Beer Company or Sunday Morning Stout from Weyerbacher Brewing Company in Easton.
"We always keep a certain percentage of them local, but then we'll have stuff from all over the U.S. and Europe as well," Mullen said.

Jason Evenchik, a 2002 master's of international business and marketing alumnus, opened Time in 2008 as his second restaurant. Evenchik wanted to create a new restaurant that was different from Vintage Wine Bar, a wine and cocktail bar he started eleven years ago.
"He wanted to do something with music and just [have] a bigger venue than Vintage," Mullen said.
Evenchik now owns four other restaurants in the city, including Bar, Garage, Tiki and Heritage.

The live music at Time is predominantly jazz, especially during Happy Hour from 5 to 7 p.m. Monday through Friday. Performances later on in the night can range from funk to soul rock.
Mullen said Temple students often play music at Time, including Tim Brey, a 2012 jazz studies alumnus, and James Santangelo, who is also an alumnus of the Boyer College of Music and Dance.
Josh Fisher, a former music student at Temple, played at Time in 2014. His band The Vibe Plus 5 won a battle of the bands called the PHL live competition. Fisher now teaches music at Perelman Jewish day school. His favorite thing about Time is the Monday night jam sessions.
"It's a great way to learn from other musicians and network," Fisher said.
On Friday and Saturday nights, the upstairs room opens up into a dance bar with a live DJ. Students from Temple and other universities often come to Time to dance along to Top 40 hits, hip-hop and EDM.
"It's pretty eclectic, but it's a fun crowd on the weekends," Mullen said.
The club opens at 9 p.m., and guests can get into the club for free until 10 p.m. when a $5 entry fee is added.
"We've got whatever vibe you're in the mood for," Mullen said. "We have it in house, any day of the week."
-Taylor Horn
The El Bar is best known for its "Kensington Happy Meal," which includes two hot dogs, a tall boy can of Pabst Blue Ribbon, a bag of chips and one toy — all for $5.
This cash-only dive bar at the corner of Front and Master streets is named for its location under SEPTA's elevated Market-Frankford Line.
"The present owner's mother bought the bar in 1970, but it was a bar even before that," said Jasper DelCarlino, the general manager. "It initially was two row houses. My father, who was a police officer in the '50s, remembers one side being a luncheonette for a time."
The El Bar has a large backyard decorated with strings of twinkle lights, picnic tables and lawn chairs. The bar also hosts live music each week.
There's karaoke  on Mondays at 9 p.m., live jazz on Tuesdays at 8 p.m. and open mic night starts on Wednesdays at 8:30 p.m.. Happy Hour is 5 to 7 p.m. Monday through Saturday.
Another drink special at the dive bar is a Citywide Special — a 16-ounce PBR can with a shot of bourbon for $4.
Inside, the El bar has a pool table, a medium-sized bar and tables and chairs for additional seating. The booth seats are decorated with band logo stickers and the bar is lighted with multi-colored string lights. Art and posters hang from the worn-down brick walls.   
DelCarlino first discovered the El Bar in 2006 while visiting his mother who was sick with leukemia in Philadelphia.
"I just wandered into a bar under the 'El' on Front Street," DelCarlino said. "It didn't even have a sign then. One thing led to another, and the owner offered me a job as their first manager ever, doing basically whatever I wanted with her."
Together, DelCarlino and owner Robin Schimpf organized art and music shows for the El Bar.
"We eventually grew to be a very popular spot," DelCarlino said. "We are in the top 10 of PBR sales in the country."
In 2013, the El Bar was named one of the top 10 "Hipster Hangouts" in Philadelphia by Zagat, a website that covers restaurants and bars in major cities.
"It's a great summer bar," said Sam Sitowski, a junior public health major. "The backyard is really cool. My friends and I come here a lot when the weather's nice."
"It's so laid back, which is great for me because sometimes I just want to sit down and have a few beers with friends," said Austin Kelly, a junior theater and film and media arts major.  You don't have to worry about getting all dressed up and going all the way to Center City."
-Meghan Costa
---
The inside of Locust Rendezvous looks the same as it did on Michele Recupido's first day behind the bar 27 years ago.
Recupido is the general manager of the dive bar, which is nicknamed "the Vous," on Locust Street near 15th in Center City.  She said the nostalgic atmosphere created by the wood paneling, black ceiling and twinkle lights is intentional.
"We make everyone feel real at home," Recupido said. "If you're here and in 45 minutes time you say to somebody, 'This place reminds me of…' we hooked you."
Recupido said college students are attracted by cheap drink prices — none of the bar's "Back to Basics" bottled beers are more than $6. Two beers and one shot are featured each week at reduced prices. The Vous also hosts Quizzo every Wednesday night.
The bar's food is 80 percent homemade, Recupido said. The crock of French onion soup, made with applejack brandy and red wine, is "absolutely killer," she said. 
Over the past three decades, Recupido said she's seen the neighborhood change a lot, but the bar has developed a regular set of faces that staff members see every day.
"We're a constant in the transient Center City," Recupido said.
-Grace Shallow, Deputy Features Editor
Ukiah Carbone-Gambon, a regular at The 700, said the Northern Liberties bar is the closest he'll ever come to being in the TV show "Cheers."
"I can just walk in and [the bartender] will have a drink ready most of the time and everybody knows each other, everybody supports each other and it's the motley-est crew I've ever met," Carbone-Gambon said. "I've met some of the most wonderful people ever here."
The 700, on 2nd Street near Fairmount Avenue, is often screening soccer games on the ground floor. There's a set of regulars, including Carbone-Gambon, artists, contractors and the "Happy Hour Hen," who sells fresh eggs harvested from her farm in South Jersey on Thursdays.
 On weekends, though, the second floor opens and the bar becomes a club.
"Once Friday night, Saturday night rolls around and it's like 10, all the kids start lining up and they all want to go up to the club, which is the dance floor," Carbone-Gambon said. "So that's the other big appeal. That's one of the best parts about this place, is that it changes its face, it becomes a whole different thing. So us older heads, we don't mind getting out and letting the kids go."
Oona Jones, a bartender at The 700 since 2008, said the bar "has a corner-bar feel, but then it has the frat house element upstairs." She said the low prices, the Northern Liberties location and the dancing attract college students from all over the city. The bar serves more than 80 bottled beers, including beer from local microbreweries like Philadelphia Brewing Company, Sly Fox  and Yards.
"On the weekend it gets very young and fun and very old-school, like hip-hop and dance," Jones said. "And they're always busy, it's crazy."
Carbone-Gambon said the bar's versatility is what makes it "one of the most special places" in the city.
"It's not like anything goes here, but it's a very supportive community," he added.
-Erin Moran, Deputy Features Editor
 The original Garage bar, located in South Philly near Geno's Steaks, began as an auto-body garage.
The owners bought it, renovated it and turned it into a car-themed sports bar. The Fishtown location, on Girard Avenue near Frankford, opened in August and has a similar vibe. The sports bar has nine flat-screen TVs, a motorcycle hanging from the ceiling and a built-in food truck.
The food truck is actually a full-service kitchen that food vendors and catering companies can rent out for the night. On Thursday, BAO Wow WOW, an Asian fusion vendor, served Chinese buns, or steamed bread filled with meat, from the truck.
John Anthony, a junior exercise and sport science major, worked as a barback and a member of security for three years at the South Philly location. When the Fishtown location opened over the summer, he became a bartender.
"On the weekends, it's definitely very busy," Anthony said. "We do a lot of volume on the weekends. Weekdays, little bit of a more mellow crowd, depending on whether or not there's a show down the street at The Fillmore."
 Anthony said he often sees his classmates at the bar. Students enjoy coming to Garage Fishtown because "there's a lot of vibes here that are pretty cool and they're a lot different than up near campus," he added.
He said a lot of people come to watch sports or play pool, but the bar's skee ball machines also draw a crowd. On Friday nights, Anthony said the bar has a "house party vibe."
Anthony's favorite thing about the bar is its wide selection of beers. Garage only carries canned beer, like Blah Blah Blah IPA from 21st Amendment Brewery and Guava Islander tropical IPA from Coronado Brewing Company.
"That's kind of our thing," he said. "We have over 430 different kinds of beer, so we have something for everybody here."
"I like helping people with discovering new beers," Anthony added. "That's kind of fun to me."
-Erin Moran, Deputy Features Editor
---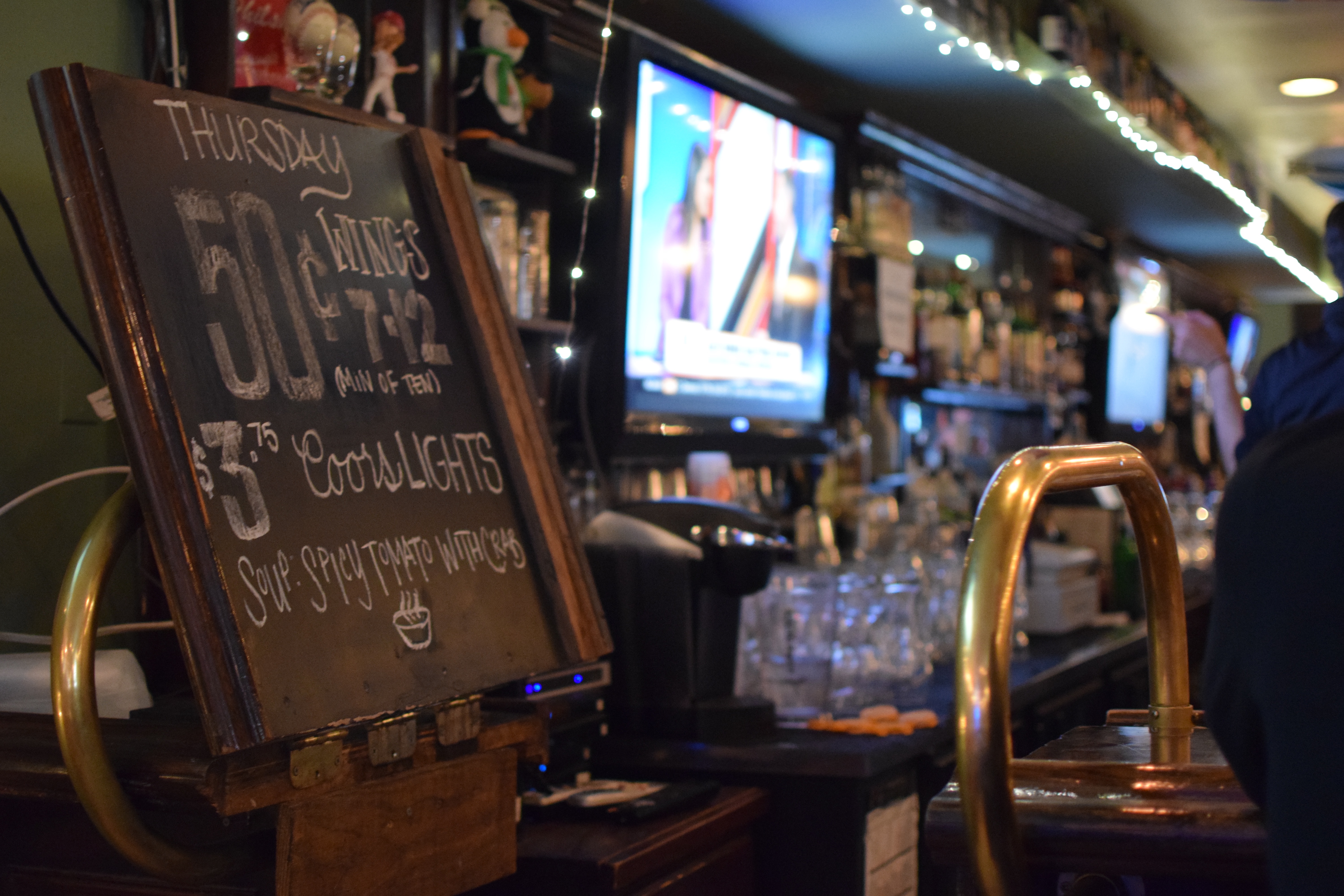 What came first at Cavanaugh's Rittenhouse: the wings or the sauce? Or, maybe the more appropriate question is, which one keeps people coming back?
The wings are dry-rubbed, fried and baked. Then, they're smothered with the "Cav's sauce" — a barbecue and hot sauce-based mix that's infused with whiskey, garlic and butter.
The bar's wings are a signature item, said Justine Cassady, the events manager at Cavanaugh's Rittenhouse.
Others may go to the bar on Sansom Street near 18th for the wide selection of beers including IPA's and stouts, dozens of flat screen TVs and the two bars — one upstairs and one downstairs, both with high-top tables as a seating option. Cassady said there's also an Alumni Room where people rooting for the same team, or rivals, can host private events, like watch parties.
Happy Hour specials are available Monday through Friday from 5 to 7 p.m. with late-night options on Wednesday and Sunday from 10 p.m. to midnight, are $2 off all beer, wine and liquor.
Cassady said Cav's is the best place to catch a game in the city because the atmosphere feels like you're watching the game with all old friends.
"We've got a regular crowd in here," she said. "Come in and we'll know what you like to eat, drink and your name after the first time."
-Grace Shallow, Deputy Features Editor
STORIES FROM BEHIND THE BAR
Glittery posters line the walls at the New Barber's Hall, advertising sauteed crabs and 25-cent chicken wing deals.
It's only 5 p.m. on a Wednesday, but friends are already starting to unwind, laughing together as 50 Cent plays from the jukebox. In just a few hours, it will be karaoke night, which runs from 8 p.m. to midnight.
General Manager Charlotte Adams, whose uncle is the owner, said customers come out every Tuesday for the 25-cent chicken wing deal, which runs from 6 p.m. to midnight when a customer buys a drink.
Barber's Hall opened on Oxford Street near Carlisle almost 40 years ago. Adams said the bar still serves the same clientele — North Philadelphia residents — but as Temple has developed, the staff has seen more students come in, too.
"The clientele is getting bigger," said Adams, who has worked at the bar for 30 years. "[It's a] mixed clientele. We cater to everybody."
She added that the bar often hosts sorority meetings once or twice a month.
Now, patrons are coming from all over the city — not just North Philly — for birthday parties and weekly events, like karaoke night and Ladies' Night  every Thursday.
John Adams, Charlotte Adams' uncle, has been coming to Barber's Hall since it opened. He said the family-like atmosphere and weeknight events keep him coming back after all these years.
"You could have a lot of fun here, and they have specials on drinks and activities like happy hour, karaoke night, parties," the Northern Liberties resident said.
"We are one family," Charlotte Adams said. "Everybody gets along. We help one another."
-Emily Scott
---
Making a drink for someone is a lot like comforting a little kid.
"You've got to be able to read people," said Halle High-Benson, the head bartender at Pub Webb. "You have to know how and when to talk to customers."
High-Benson, a senior sport and recreation management major, is one of several students who bartend after class to make extra cash — despite long hours, lengthy lists of drinks to memorize and constant hard work.
When she was 19, she walked into the bar on Cecil B. Moore Avenue near 16th Street and asked for an application. A manager sat her down for an interview and hired her on the spot.
That weekend, she started training on Pub Webb's back bar, when her drinking knowledge didn't stretch much further than Vladimir vodka — a liquor sold for $12 a handle.
When her boss asked her what type of liquor Jameson is, she balked on the answer.
"I was like, 'oh my God, I cannot do this,'" she said she remembered thinking that night.
Now, High-Benson works at the bar four days a week from 4 p.m. until it closes at 2 a.m., clocking in about 40 hours a week on top of a full-time internship for the Philadelphia Soul, an Arena Football League team.
She said she averages about four hours of sleep a night, but her love of interacting with people makes the long days and nights worth it.
"I love just coming in here, being around the atmosphere and the people I work for, who are like my best friends and like my family," High-Benson added.
Colin Pawlowski, a senior media studies and production major, said he's a hard worker in all capacities of his life, which makes bartending a natural side job.
Pawlowski has worked at Punch Line Philly, a comedy club and bar in Fishtown, since it opened in July 2016. He started working in the restaurant business during high school, and eventually worked as a barback — a bartender's assistant who completes tasks like restocking ice and alcohol — at shows at the Mann Center for the Performing Arts in Fairmount Park.
One weekend, after the band Phish performed at the venue, he walked home with $700 and said he knew he had to stay in the business.
He said working late hours as a bartender is good for college students because it allows them to go to classes and get homework done during the day. He added that everyone should work in customer service at least once.
"It's a humbling experience," Pawlowski said. "I have learned so much from people who are completely different than I am through working outside of school. … You're also serving people from all over the place."
It's also taught him life skills like being a leader and being quick on his feet, he said.
High-Benson said working at Pub Webb taught her skills transferrable for her career, like counting money and time management.
Nate Webb, a 2005 business alumnus and one of the co-owners of the bar, said High-Benson was one of the youngest people the bar has ever hired. He added that bartenders must work efficiently to make the night go smoothly, but they're also the face of the business.
"It's important for the bartenders to be nice, but also stern in the way they manage their role at the business," Webb said. "They're the first faces you see when you walk in, so the initial impact of customers coming in is dependent upon the bartenders."
High-Benson said working behind the bar taught her skills transferrable for her career, like counting money and time management. But bartending has helped her push and challenge herself to be the busiest person she knows, she said.
"I'm always pushing, always running," she said. "It helps me thrive."
-Grace Shallow, Deputy Features Editor
---
Joe Brandt, Meghan Costa, Taylor Horn, Erin Moran, Emily Scott, Grace Shallow  and Moriah Thoman can be reached at features@temple-news.com or on Twitter @TheTempleNews.
Photos by Angela Gervasi, Conor Rottmund, Sydney Schaefer, Nick Seagreaves, Grace Shallow, Max Simons, Brianna Spause, Courtney Summers, Kyle Thomas and Lucy Thornton.
Videos by Abbie Lee, Ivy Nguyen and Linh Than.
Graphics by Courtney Redmon and Donna Fanelle.
Produced and designed by Donna Fanelle and Emily Scott.
First published on March 7, 2017.